3 impactful cafeteria updates that don't require a full renovation
May 26, 2021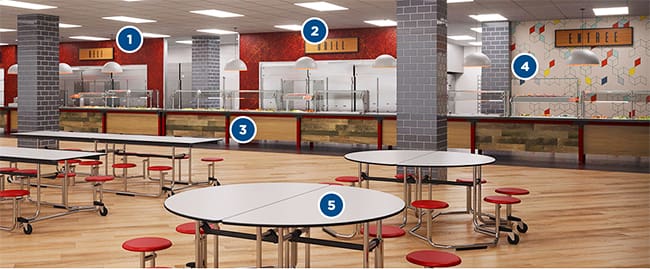 It's a tale replicated countless times across non-commercial dining. Old, deteriorating equipment is limping along. It breaks and is costly to diagnose and repair. It's limited in what it can do and a struggle to keep looking clean after years of use and abuse.
In addition, diners are drawn to the newer, flashier restaurant down the street where customizable, fast-casual style food is served in a fresh, modern environment. And with the rise and increasing ease of delivery, there's no longer an inherent advantage to being "in the building."
More than ever, non-commercial dining operators must position themselves as more than a convenient option — or even the only option. They must advance to become a truly appealing alternative.
But — and there's always a but — how can operators achieve that transformation when a complete renovation isn't in the budget yet? We've got three impactful ways to freshen up a dining facility and start improving performance now.
Start small
Appearance is critical in attracting customers, and facilities that look dated are often off-putting to diners long before they get to the food.
Make small changes to serving line equipment like updating food shields and installing decorative and functional LED lighting as a first step toward improving the diner experience. The addition of standoff panels to a stainless steel counter can make a dramatic difference.
Lighting is often poor in older cafeterias. Freshen it up with spotlights or pendant lights over serving counters. This update not only improves the appearance of the food itself but also provides a more modern feel.
Create a new paint scheme, and get rid of outdated colors and design. Add new finishes or graphics to the counter-fronts. Particularly if this aesthetic refresh will need to be accomplished eventually, tackle that work first and see how it's looking and being received.
The feedback from these early moves can help guide future steps and prove out the value of updating.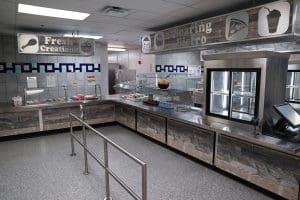 New skin on old bones
Hold on to heated and refrigerated devices to control cost. Cold pans, hot wells, refrigerators and the like may still be functioning fine, allowing operators to put their resources into updating appearance and menu options.
If your facility has a steel-frame serving counter, reusing the bones of that structure and outfitting it with new tops and cabinet panels to update the appearance can save significantly over installing new serving lines from scratch.
This was the approach during a dining hall renovation at the University of Maine, where planners worked with what could be salvaged and replaced what couldn't in order to meet the project's budget.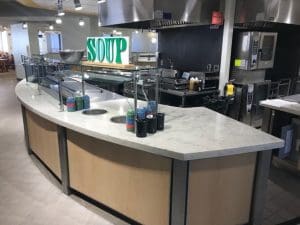 Flex your menu muscle
Particularly for operations in university and corporate environments, appealing to the dining population isn't necessarily about the location. It's about the food.
Colleges, for example, have a student population accustomed to modern restaurant environments where customization is the standard order. These institutions need to offer assembling-to-order at the least. Cooking-to-order is even better.
Investing in some key equipment updates can make the transition to more modern serving easier.
For instance, LTI's QuickSwitch technology installed in existing serving line equipment can dramatically expand options by allowing hot and cold foods to be served side by side – hello, taco bar. And wells can switch between temperatures in an hour. This flexibility allows operations to offer regularly changing menus at different times of day or different days of the week.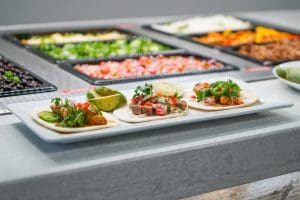 These convertible hot and cold wells, as well as convertible hot and cold shelves for sides and grab-and-go offerings, support the kind of menu flexibility that keeps diners coming back day after day.
Other equipment, particularly multi-use, flexible and high-speed appliances, can provide increased menu variability.
Options like conveyor ovens, high-speed panini grills, induction cooking and warming, multi-cook ovens, and high-speed hybrid ovens allow kitchens to produce custom meals while maintaining speedy service and high throughput.
Looking for some inspiration for your refresh? Explore LTI's case studies for some great ideas.
[custom-related-posts]