Visual Design — Transforming Space to Increase Meal Participation
September 13, 2022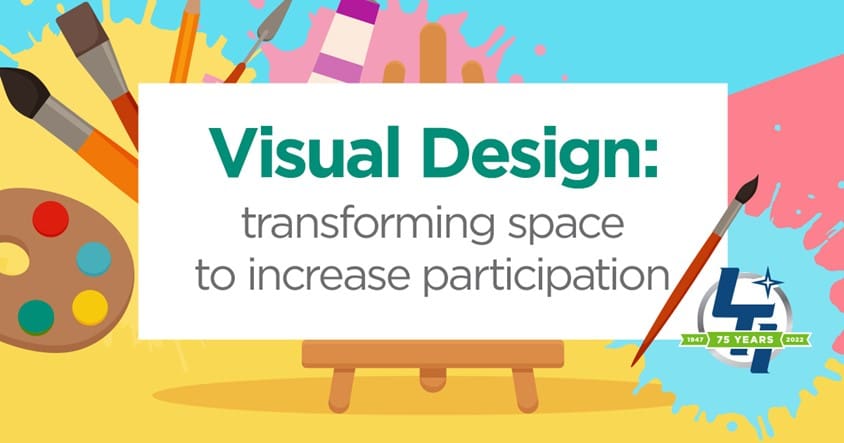 Cafeterias of the past were often designed with one basic purpose in mind: to move students through the serving line as quickly and efficiently as possible. And as the number of students grew over the years, space constraints often necessitated changes that emphasized the "get in, get out" mindset. As a result, many traditional cafeterias experienced steady participation decreases as students tired of long lines and the institutional environment.
In recent years, K-12 school nutrition directors and administrators are recognizing the vital importance of creating an appealing space that calls on students and staff alike to gather and share in meals together. The tide has turned as we deepen our understanding of the fundamental importance of social engagement during mealtimes and the positive effect it can have on both mental and physical health.
Four considerations for a cohesive cafeteria visual design plan

To create a cafeteria that is conducive to socialization in addition to meeting basic nutritional needs, there are several key considerations that must play into conceptual design.
1. Lighting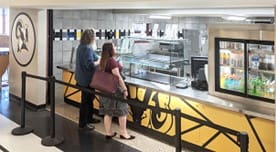 The simple act of breaking up the utilitarian standard florescent lighting and the ceiling line can emulate a restaurant ambiance that encourages shared conversation. Additional track or accent lighting can highlight menu options and increase food's desirability. At Englewood High School in Jacksonville, Florida, for example, unique lighting — both overhead and under tray slides — brought attention to the serving lines and brightened a space that had previously been dark and unappealing.
2. Signage and school spirit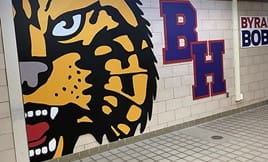 When undertaking a cafeteria remodel, signage is often included as an afterthought. However, this important consideration can enhance or develop spirit and a sense of pride in community. And as health and wellness continues to take center stage with nutrition directors as well as students and staff, signage can be used to illustrate key nutritional information to diners. During a recent cafeteria redesign, Byram Hills High School in Armonk, New York, chose to incorporate school colors — emblazoned "BH" and "Byram" on the walls — as well as detailed additions which included mobile stainless steel traffic control rails with laser-cut paw prints to reflect their Bobcats mascot.
3. Seating and furniture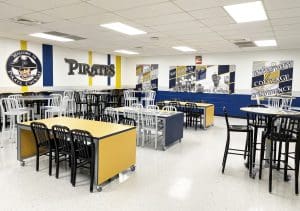 Hard-backed chairs or benches are no longer the norm in today's modern school cafeterias, and for good reason! Diverse seating options, such as bistro-style booths and soft seating, are all excellent examples of the kind of variety that will encourage small group conversation. Technological elements, such as USB charging hubs, can be added in where situations allow.
In high-density situations, community tables can be designed with comfort and collaboration in mind, while still elevating the standard utilitarian cafeteria look and feel.
"All the different options are really about letting students carve out their own space to be comfortable with their friends," says Chris Minor of King Middle School in Harrodsburg, Kentucky, "rather than being herded into a uniform, correctional-style seating arrangement."
4. Wall coverage and unique features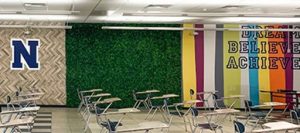 Most K-12 school cafeterias face the dilemma of utilitarian cinder-block walls that impart a drab institutional feel to the student experience. But it is easy to look beyond traditional whites and greys to envision a space that accentuates school spirit and utilizes a full wall to create ambience and an upbeat environment for dining.
There are infinite opportunities to leverage wall space to convey atmosphere through utilizing modern graphics and branding to add engaging statement points. In a recent overhaul of 14 buildings in a sprawling school district, Newburgh Enlarged School District transformed their cafeterias into vibrant gathering places, including a turf wall where students could gather and take selfies with a themed backdrop.
Check out the video of this amazing redesign at Oviedo High School in central Florida!
The impact of design cohesion on meal participation
There is real data available measuring the impact of a comprehensive cafeteria design plan utilizing LTI's VisionDesign services on meal participation rates among students.
According to Tonya Grier, CNP Director for Dothan City Schools in Alabama, "Three years after updating our two high school cafeterias, we still see participation at approximately 46% higher than before the redesign."
Midfield City School District in Alabama saw a 20% jump in meal participation after its cafeteria redesign. And at Lakeland Central Schools in New York, not only did participation leap, but cash sales also skyrocketed after the successful redesign of an existing space with significant limitations.
The cafeteria redesign planning process
It is essential to work visual design into the planning process from the beginning stages to achieve your maximum potential.
Here are some tips to keep in mind when embarking on a cafeteria redesign project:
Start with a fully fleshed-out plan — with all the bells and whistles of your ideal design — and then scale back to budget where necessary.
Remember it is easier (and less expensive) to incorporate focus walls or other special features into the plan initially, rather than needing to find workarounds later in the process.
Bring staff with different areas of expertise into the planning process, such as nutrition directors, administrators, foodservice managers, cafeteria heads and even student ambassadors.
Look at past case studies for inspiration and ideas.
Rely on VisionDesign staff for guidance — they have years of experience!
A new frame of mind
When embarking on the daunting process of a cafeteria overhaul, recognize there are numerous factors to consider when maximizing a potential increase in the participation rate of a food service program.
Cafeteria redesign should go far and above improving the layout and efficiency of the serving line. The institutional environments of the past will not entertain our younger generation, who are now more savvy consumers than ever before. To complete a successful redesign with boosted participation numbers, you must provide a vibrant gathering place with exciting options for a mingling of young minds.
[custom-related-posts]