Improve your menu flexibility and merchandising with LTI technology
February 27, 2020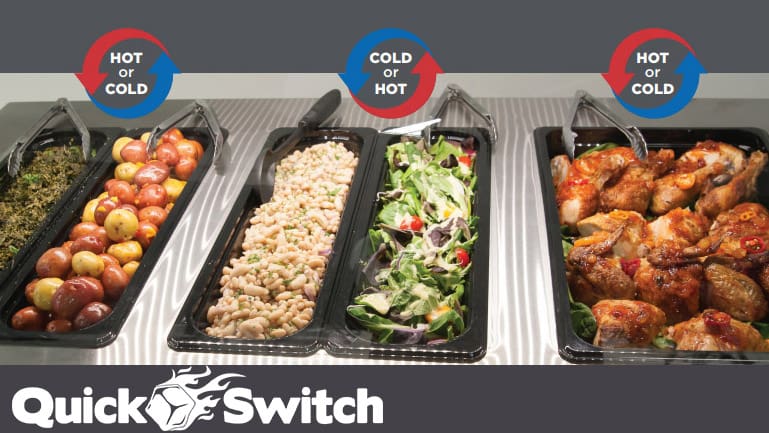 LTI's QuickSwitch and patented TempestAir drop-in wells offer benefits that create an opportunity for unlimited menu flexibility, plus better product display
Foodservice directors, managers and chefs are always focused on improving two basic concepts — increasing their menu options and finding better ways to display those options in order to serve more and decrease waste.
Available equipment can dictate an operator's menu and what can be served either for a single meal or an entire week. When a serving station's three-well drop-ins are only able to serve all cold items at one time or all warm at one time, the meal options become limited.
But what if that same serving technology could serve one cold and two warm items, or a cold, a warm and a frozen item or any combination? And what if there was also an option for drop-ins to more clearly display what food is available and entice more customer engagement? These benefits would create an opportunity for unlimited menu flexibility as well as better product display.
This is the freedom that LTI's QuickSwitch and patented  TempestAir drop-in wells offer.
QuickSwitch makes menus more Flexible
A typical meal calls for a variety of food at different temperatures. A common three-well drop-in station programs all the wells together, heating or cooling all three as one unit. This approach doesn't offer the flexibility required to serve a multi-temperature menu at one serving station. However, for a QuickSwitch controlled drop-in, this is no challenge at all.
These independently controlled wells can be set to hot, cold or freezing, each with their own simple to use control. Better yet, each well can be switched to any other temperature setting in an hour or less. The individual well control allows operators to serve foods like chicken wings, cold bean salad and roasted potatoes just three inches apart from each other in a display that limits the risk of cross-contamination.
QuickSwitch drop-ins are available in one, two, three or four well units and feature a hot setting that can run wet or dry; a cold setting that can vary between 35o and 41oF; and a freezing setting that will hold at 10oF. Each well turns on with the flip of switch and is fitted with its own drainage system.
QuickSwitch does all of this while maintaining proper serving temperatures and allowing the food pans to remain flush to the counter-top. Finally, QuickSwitch is backed by a two-year warranty on both parts and labor.
TempestAir enhances merchandising
Separate from QuickSwitch, but equally innovative, are TempestAir refrigerated cold pans. These pans were developed to hold products in the open at a temperature of 40oF or less. With Temp-est Aire®'s patented air flow system, fresh salads and other cold foods are displayed in an environment that evenly distributes the temperature throughout the product.
While there are many types of pans that keep food cold, TempestAir sets itself apart with its unique ability to display food at a level that is flush with the countertop. This eliminates the need for operators to recess their food pans, but in a manner that still exceeds NSF-7 Food Code. The level and sloped cold pans not only place food closer to customers — improving their ease of access — but merchandising is greatly improved through the enhanced product display. Better displays make for greater customer engagement and ultimately leaves operators with less waste.
The sleek and simple design of TempestAir, much like the QuickSwitch, makes for easy and quick equipment cleaning. This leaves more time for operators to focus in the kitchen or with customers, and less time maintaining their equipment.
[gpimb-btn-addto label="Add to Mood Book" ifnew="Add to Mood Book"]
[gpimb-btn-view label="View Mood Book" ifnew="View Mood Book"]