Guide to K-12 School Cafeteria Serving Line Equipment
February 14, 2023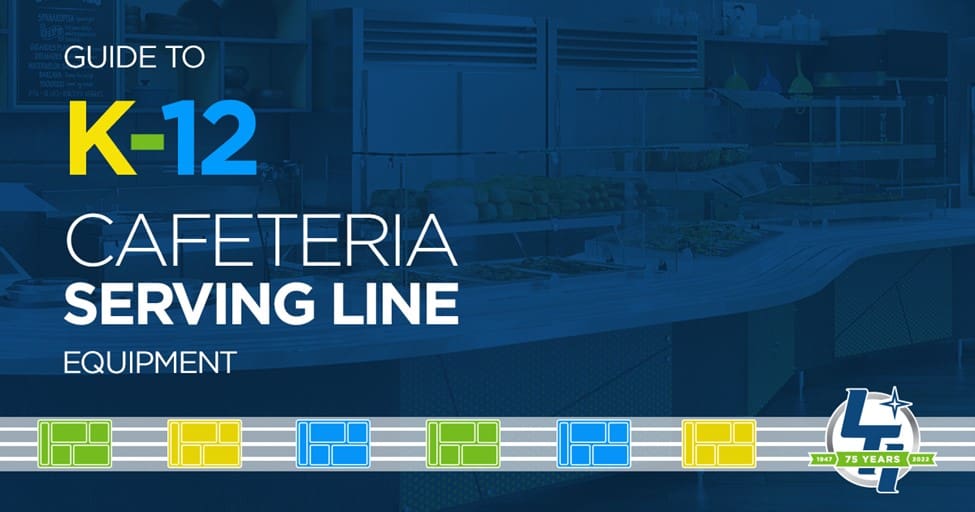 When it comes to redesigning a K-12 school cafeteria, there are quite a wide variety of options in cafeteria serving line equipment. Other considerations abound, from variations in layout and design of space, to a plethora of accessories like signage, seating and menu boards.
While having so many choices at your fingertips is a plus, it can become a little overwhelming when determining the best selection to fit your needs and budget. With years of expertise in guiding cafeteria renovation, LTI has put together a comprehensive resource guide to help define and delineate the many options available to schools, from simple upgrades to complete overhauls.
Commonly Used School Cafeteria Kitchen Equipment
Serving counters are the backbone of cafeteria equipment. The best counter solution for your cafeteria depends on a range of factors, including serving style, design preference and budget.
Foodservice carts are mobile units ideal for cafeteria corners, hallways or special school events where space is limited. Utilizing carts is an excellent way to increase meal participation among students by offering "grab-and-go" alternatives. Mobile carts can be fitted with optional menu boards and decorative graphics and are generally equipped with locking wheels.
LTI offers many different cart options, including breakfast, grab-and-go and freezer-enabled carts all with a variety of configurations that allow operators to offer efficient remote service.
Food wells are an important consideration in almost any piece of cafeteria serving line equipment, and a variety of options are available.
Hot wells. LTI developed ThermalWell technology to reduce energy use and conserve water without sacrificing quality. Hot wells can be dry or wet, depending on operator need. Dry wells save labor as drainage is not necessary.
Cold wells. TempestAir technology was created to hold chilled products in open pans flush to the countertop at a temperature of 40 degrees or less, maintaining critical food safety temperatures without freezing. There is no need for ice, and air flow below the pan does not dry out the product.
Hot, Cold, Frozen convertible wells. LTI has solved the question of hot or cold through the design of its QuickSwitch serving technology which allows the operator to choose hot, cold or frozen options and switch from one to another in under an hour. QuickSwitch food wells sit flush to the counter, which gives a lot of flexibility in menu design from day-to-day and even hour-to-hour.
Common School Cafeteria Serving Line Problems (and Fixes!)
Many K-12 cafeterias have been operating with certain protocols developed decades earlier and are not conducive to rapid increases in student population size and technology advancements. A redesign is a perfect time to review all systems and evaluate for several types of inefficiencies.
Common problems, and ways to remedy each situation, include:
Food/supply shortages. In recent years, supply shortages have become the new normal for school cafeterias, forcing last-minute menu changes and substitutions which can disrupt the flow of students through the serving line.
Remedy: The benefits of switching from hot to cold or frozen in under an hour when last-minute changes occur can be a lifesaver.  And LTI's QuickSwitch drop-ins have a self-contained design allowing for easy installation in any serving counter.
Labor shortages. Many of us have felt the sting of the labor shortage facing many industries, including foodservice. It is especially challenging in light of the fact schools need to provide nutritional meals to students no matter what staffing issues may arise.
Remedy: Prepare for labor issues in advance by incorporating grab-and-go kiosks which can be pre-assembled and don't require a staff member at the serving line. And if a worker calls out sick, with a QuickSwitch unit, you only need one operator to serve both hot and cold options, such as hot pizza and deli sandwiches, side-by-side.
Bottlenecks and long lines. With most school districts facing rising student numbers, the days of hour-long lunch periods have fallen by the wayside. Most often, lunch breaks are scheduled in waves, and students have 30 minutes or less to get through the serving line and eat their meal in a rush.
Remedy: Digital menu management and other signage improvements can go a long way toward relieving bottlenecks by speeding up the decision-making process. Some schools have even moved toward the pre-ordering of meals to help reduce problems caused by shortages and even save money by reducing food waste. Don't overlook menu boards; they will often pay for themselves quickly in time saved. It's also an option to create a standalone station in a hallway or cafeteria corner to efficiently serve pre-made sandwiches and cold drinks from a very small footprint. 
Space constraints. Many cafeterias were designed decades ago and did not leave room for a large expansion in student numbers or the need to provide a variety of healthy or alternative food choices. In these cases, the ability to provide different stations can become a challenge.
Remedy: Go vertical! If you can't expand outward, you need to expand upward. Two-tier QuickSwitch Ceran shelves can be added to every line to allow additional hot or cold food choices to be served quickly without taking up valuable space on the main serving line. Going vertical with your serving equipment can double the amount of product served in the same footprint, and food does not need replenished as often. For instance, a frost top can be placed above a cold pan, essentially doubling the amount of display space for your selections.  LTI provides a number of vertical configurations to fit your varying needs.                    
Improving Participation in School Cafeteria Serving Lines
Serving line inefficiencies quite often lead to substantial reduced participation in school meal programs. A well-thought-out cafeteria renovation can easily lead to an increase in participation — we've seen success boosts ranging from 10 to 40% or more!
Many schools with low participation rates (sometimes as low as 10-20%) are realizing the outdated drab and institutional design concept is a main culprit.  To create a modern cafeteria conducive to socialization, there are several key considerations that must play into the design or remodel process. These include:
Comfortable seating
In high-density situations, community tables can be designed with comfort and collaboration in mind, while still elevating the standard utilitarian cafeteria look and feel, without the loss of space.
Attractive lighting
LED accent lighting can highlight menu options and enormously increase food's desirability in addition to brightening dark and utilitarian spaces.
Signage/school spirit
Using a variety of colors and unique graphics can enhance or develop spirit and a sense of pride in community as well as illustrate key nutritional information to students.
Wall coverage
Most older cafeterias are beset with traditional (and drab) cinder-block walls painted solely in standard greys or off-whites. There are infinite opportunities to leverage wall space to convey atmosphere through utilizing modern graphics, as well as bright paints in school colors to add engaging statement points and lighten that old-school sense of gloom.
Although a full cafeteria redesign may seem like a daunting mission, it can be accomplished quite successfully after a thorough review of any existing inefficiencies and a solid understanding of what type of cafeteria serving line equipment is available to you within a set budget.
For more ideas on improving the flow and function of your cafeteria, contact the K-12 dining specialists at LTI today.
[gpimb-btn-addto label="Add to Mood Book" ifnew="Add to Mood Book"]
[gpimb-btn-view label="View Mood Book" ifnew="View Mood Book"]