Going mobile: Grab and go breakfast carts boost participation, improve student experience
August 8, 2021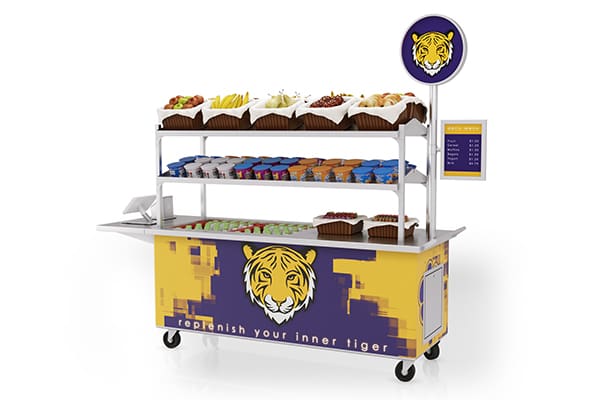 Your mom always told you that breakfast was the most important meal of the day, and to some extent she was right.
Research bears out that breakfast is a crucial meal for K-12 students, boosting school performance and overall wellness.
But for a number of reasons, student populations are often underserved when it comes to breakfast in schools, a situation that advocates and school nutrition leaders are seeking to solve with creative serving alternatives.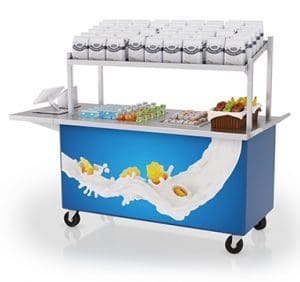 The value of school breakfast
Children and adolescents who eat breakfast are less likely to be overweight and typically have lower levels of behavioral, emotional and educational problems, according to research.
The value of breakfast is not just in eating a morning meal but also in when it's eaten. "Children who eat breakfast at school — closer to class and test-taking time — perform better on standardized tests than those who skip breakfast or eat breakfast at home," reports the Food Research and Action Center.
But traditional programs that serve breakfast before school may be leaving some students out — those whose bus route doesn't arrive early enough, who have before-school extracurricular activities or who just aren't the type to get going early in the morning, for example.
Instituting a "Breakfast After the Bell" program can help schools feed more students this important meal. Options like breakfast in the classroom or second chance breakfast, in which breakfast is offered during a break in the morning, move breakfast into the school day and offer more students the opportunity to benefit.
Students who eat breakfast at school attend more school days — chronic absenteeism drops by 6% when students have access to Breakfast After the Bell. And providing students with breakfast in the classroom is associated with fewer disciplinary actions.
Making breakfast accessible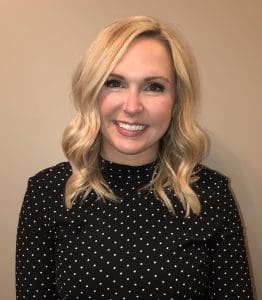 Keshia Williams, school nutrition coordinator for Coweta County School System in Georgia, recognized in her own family the real-life challenges facing a successful school breakfast program.
"I have a daughter in middle school and quickly realized that if she had to walk out of her way to the cafeteria to get breakfast, then she wasn't going to eat," Williams said.
To address this reality for all students in the county, Williams proposed a new system in which breakfast would be served from mobile carts rather than in the school cafeterias.
"We talked about how eating a healthy breakfast would increase student engagement in the classroom, lessen the trips to the nurse's office for aching stomachs and obviously increase revenue in our program," she said. "I got buy-in from principals across our district to make changes that would make breakfast more accessible to more students."
This approach allows students to pick up a meal while passing through high-traffic areas. When schools implement a grab and go model, an average of 64% of students eat breakfast compared with only 50% when breakfast is served in the cafeteria before school, according to No Kid Hungry.
Implementing grab and go breakfast carts is an approach that has been studied by academics — and shown to be effective in increasing breakfast participation — and adopted by districts including Tulsa Public Schools in Oklahoma.
At Coweta County's middle and high schools, LTI Grab 'N Go carts were strategically placed in areas that typically saw a large flow of students but where they would not create a bottleneck of traffic.
"Some of our Grab 'N Go carts are located at the bus loading zone, some are in a commons area, and one of our high schools is offering Second Chance Breakfast between first and second period outside in a courtyard," Williams said.
The grab and go breakfast carts offer a hot entrée — typically a biscuit of some kind — and a shelf-stable option that a student could grab and eat later. Fresh fruit, juice and milk are also offered with each meal.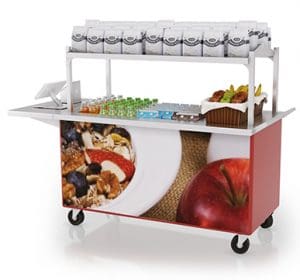 "With the shelf-stable breakfast option, we wanted to compete with the school vending machines, and these Grab 'N Go carts gave us that flexibility," Williams added.
LTI Grab 'N Go carts are available in a number of sizes and configurations to meet any school's needs — including insulated wells for hot and cold food items, overshelves for additional serving capacity and push handles for easy mobility.
Let the school lunch experts at LTI help you find the perfect solution for school breakfast or any grab and go feeding option. Contact us today.
[gpimb-btn-addto label="Add to Mood Book" ifnew="Add to Mood Book"]
[gpimb-btn-view label="View Mood Book" ifnew="View Mood Book"]