5 focus areas when upscaling your school cafeteria design
January 1, 2023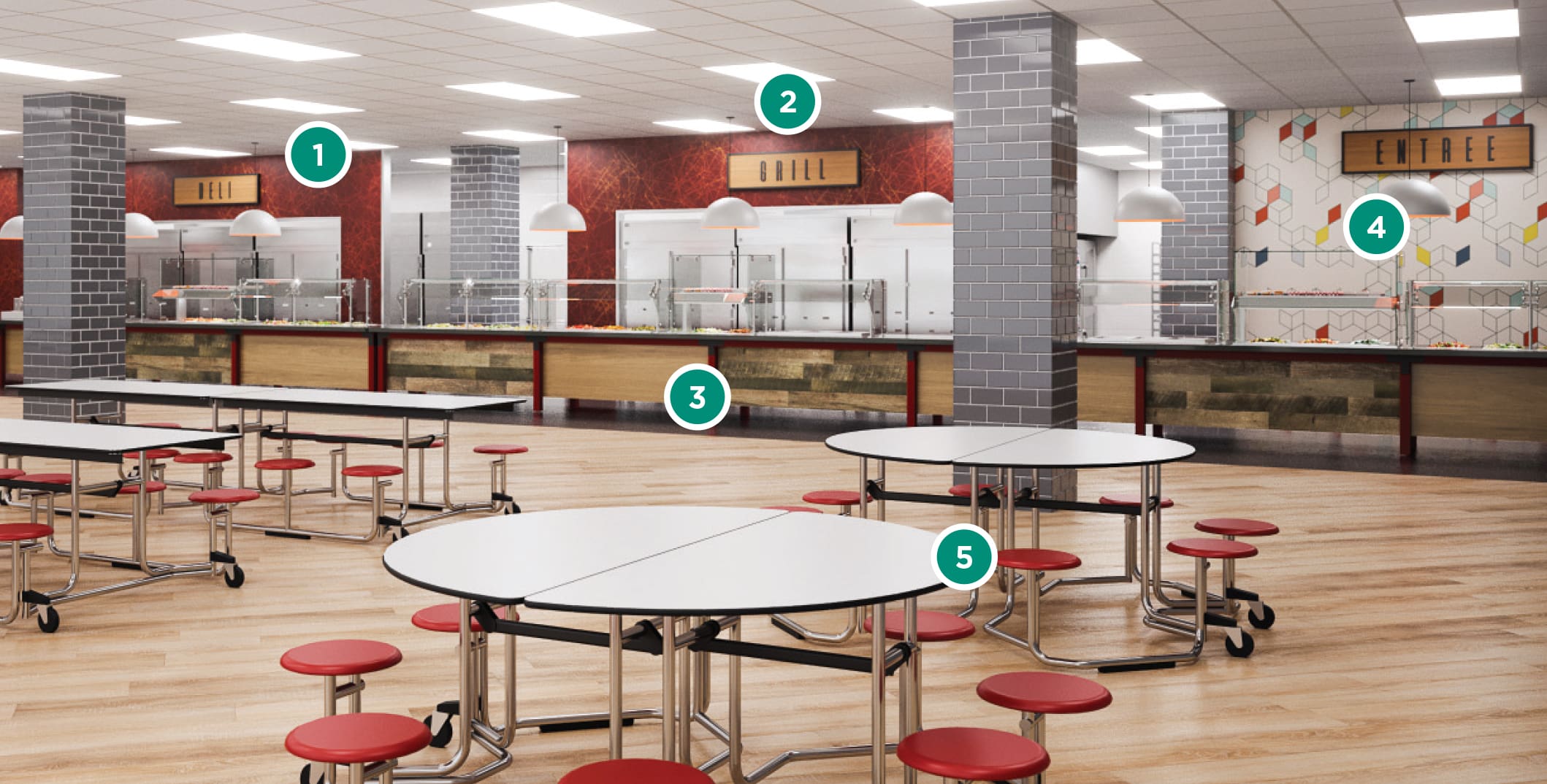 Simple Refreshed Design Ideas for School Canteens, Cafeterias and Food Courts
High schools are feeling the pressure more than ever to keep students on campus and buying food at school. With delivery through services like Grubhub, Uber Eats and Doordash, in addition to the endless number of off-campus retail choices – students are at no loss for dining options.
It's no secret that to combat these alternatives, schools are upgrading their cafeterias to emulate a retail environment. The trend in K-12 serveries is to offer a dining atmosphere that feels more like a mall, airport food court, popular café or fast casual sandwich shop. The question for foodservice operators, when it comes to upscaling their existing K-12 dining areas, isn't so much, "What do we do?" but rather, "How do we do it?"
At every school, the student body and project space are different. There is no catch-all answer to the question. However, focus your attention on the following areas of the upscale and you'll capture the interest of your students.
Upgraded cafeteria signage
Perhaps the most important element of any upscale is the signage. Great signage can draw attention, create demand, direct traffic and help create ambiance. Placement, materials and size all come into play, and when done right, reduce the gap between a retail and institutional environment. Operators can even take it up a notch with digital signage, which helps better communicate more rapidly changing menus.
Pro tip: Signs that match a paint scheme or theme of the entire servery will go a long way in building a better overall look and feel. Operators can even go a step further by incorporating the school's mascot into the décor. In addition to the retail-like feel your new signage will provide, you'll also be able to build a sense of culture and community by incorporating the school's identity.
Modernize the overall look and feel
The name of the game here is light and bright. When you think mall, airport or any commercial dining space for that matter, usually you think tall ceilings with open and bright serving and dining areas. While the ceiling height may be out of your control, there plenty of ways — whether by paint schemes, materials or furniture — to make a smaller space seem vast and modern.
Food court-like branded concepts
High school is a time of self-identity, and there may be no easier way for teenagers to do this than by attaching themselves to a brand. Creating branded concepts in your servery, such as Cup of Joe's Café, Little Italy Pizza or South of the Boarder Taco Bar can be a major factor in competing against external brands. By segmenting your serving areas accordingly and implementing updated and modern signage for each, operators can provide that retail like feel. The high school crowd will be more likely to attach themselves to that the environment because of the brand appeal. This style of cafeteria design also helps to disperse foot traffic quickly and efficiently.
Updated display equipment
Stop hiding your food. High school kids are just as picky as anyone. If they can't get a good view of what they're ordering, you can rest assured, they won't be purchasing it. Updated equipment such as hot wells that place food at counter height and are angled toward customers or food shields with more glass and less metal making food more visible from all angles makes food that much more enticing.
Pro tip: Start going vertical. Vertical merchandising equipment is more prevalent in the retail spaces (c-stores and grocery) that students are leaving school to buy food from. It will not only help complete the retail-like environment, but it will help sell more items by placing items directly in the customers' line of sight. It is also a simple grab 'n go option to help increase serving speed.
Made to order options
Everyone's tastes are different, which is why made-to-order dining is so popular. High school kids are no different. They have particular tastes and know exactly what they want. Including made-to-order options around deli, pizza or salad counters will help the school's dining options match the current trend of customization in retail dining.
For those that recognize the need to regain student mealtime market share, a cafeteria upscale is a useful approach. However, any upscale requires a strategic approach. Focusing on these five areas can help refine that strategy. For more information on how you can incorporate some of these strategies in your cafeteria upscaling project, take a look at previous LTI blog regarding signage, Why You Need Great Signage and How You Can Get It For Free.
[custom-related-posts]