6 actionable ideas to get more students eating school breakfast
March 8, 2022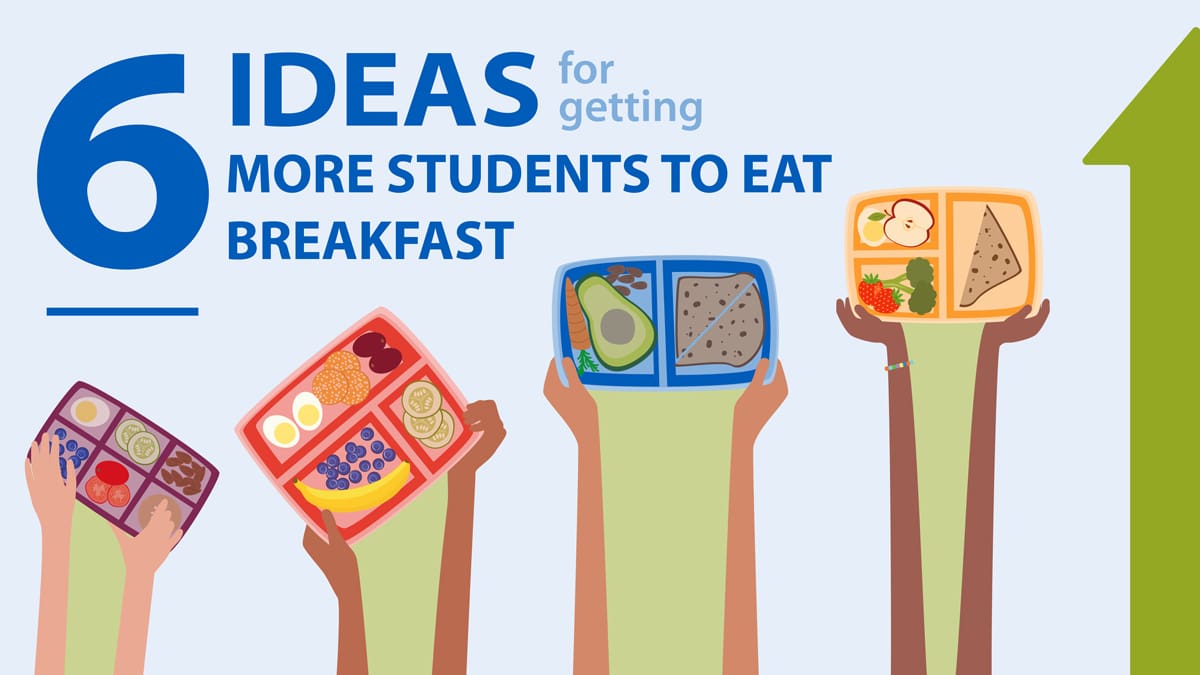 Breakfast is a critical meal for students, helping to jump start their brains and bodies for the day ahead.
Kids who skip breakfast will feel tried, restless and irritable and may experience an energy slump by mid-morning. And those who eat breakfast tend to feel, behave and perform better in school, according to research.
Despite the benefits, many youngsters, particularly those in their teenage years, are prone to prioritizing a few more minutes of sleep over eating breakfast before school. Schools are in a perfect position to provide students with breakfast that's easy to access and ready to power them through their mornings.
Serving breakfast from the cafeteria is valuable but has limitations in reaching students because of time, location or other factors.
Try these six ideas for making breakfast more accessible and appealing:
Go with grab and go
Even students who would be inclined to eat breakfast may not be interested in — or have the time for — a detour to the school cafeteria.
Set up grab-and-go stations in high-traffic areas like hallways, atriums or commons areas where students can quickly grab a bite to eat.
Allowing students to pick up a portable breakfast in the cafeteria and eat it during their first class has helped schools reach nearly 60% breakfast participation on average, according to No Kid Hungry.
Choose foods that are low on mess — since they'll be eating outside the cafeteria — and high on protein and complex carbohydrates to give students a boost of morning energy.
Door to door delivery
Taking student initiative almost entirely out of the equation can have an even greater impact on breakfast participation.
Delivering breakfasts to the classroom via coolers, carts or mobile counters can result in breakfast participation of close to 90%, on average.
Or consider delivering food to the bus dropoff location or even onto the bus itself so students can grab food on the way in to school.
Serve a little later
Make breakfast available further into the school day with a "second chance breakfast" program that offers food after the day's first period or at some point between the start of the school day and lunch.
This option appeals especially to teenagers who may not want to wake early or would prefer to socialize in the morning.
As with the grab and go options, position pick-up spots in high-traffic areas that students pass naturally on their route between classes.
Make it interesting
Menu boredom and the sense of "same old, same old" can dissuade many students from taking advantage of even readily available breakfasts.
Catch their eyes (and stomachs) with creative menu items that coax them into stopping. Options like breakfast nachos or pancake sandwich stacks are more appealing than plain pancakes or boring granola bars.
Try a liquid diet
Despite the known benefits of breakfast, not everyone is eager to eat first thing in the morning. Appeal to the not-hungry-in-the-morning types with healthy beverages or smoothies.
"It's generally easier to drink something with a straw than it is to chew and swallow something," wrote Dr. Katie Hecker, MD, a Wisconsin pediatrician.
Educate, inform and encourage
Make sure students and their parents are aware of the breakfast program, what's available and when. Share information early and often about breakfast availability.
And try breakfast nudges to potentially increase participation.
To learn more about how mobile carts, portable counters and other custom solutions can support a robust school breakfast program, contact the experts at LTI.
[custom-related-posts]