Supporting the no-dining-room restaurant of the future
February 17, 2021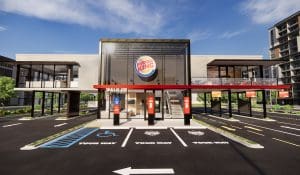 Source: Burger King
Dining out has changed dramatically over the past year, and some of these changes may be here to stay.
More than half of adults say takeout or delivery food is "essential to the way they live," and 68% of customers say they are more likely to purchase takeout or delivery food than they were before the pandemic, according to the National Restaurant Association's State of the Industry report released in January 2021.
Delivery was already on an upward trajectory before the pandemic forced the closure of restaurants around the world. The massive industry disruptions of 2020 and 2021 likely accelerated, intensified and cemented that trend.
Quick-serve and fast casual restaurants are responding by reimagining the very function of their operations to support more digital ordering, less in-person dining and a robust preference for takeaway dining.
Many major chains have announced new restaurant prototypes, and features like locker pick-up systems, drive-thru only stores, triple-lane drive-thrus and mobile ordering-centric configurations are dominant across the board. Almost all recently unveiled designs incorporate dedicated parking spots and pick-up windows or lockers for delivery drivers. Several restaurant design variations eliminate or dramatically reduce dine-in seating space, instead focusing on takeaway orders.
Digital-forward operations — either designed and launched by major brands or emulated by your local restaurateurs — will have different needs in their kitchens than traditional restaurants. Here are some ways they'll need to prepare:
Boost order assembly speed
One reason for customers' increased reliance on digital ordering is the promise of convenience and getting food fast.
McDonald's is so focused on speed that their new plans call for an express pickup technology that alerts employees to prep orders when customers are nearby.
Key to boosting speed for many foodservice operations will simply be the efficiency with which they can put together orders. A dedicated space for order assembly can be a game-changer — and the more flexibility this space can offer, the better.
LTI's QuickSwitch order assembly table is an ideal solution. It brings everything needed to assemble and package meals within reach at one convenient station.
QuickSwitch wells can hold hot, cold or frozen foods side by side and can be switched between temperatures in an hour, allowing the table to accommodate various dayparts or daily specials with ease. Hot wings, cold salads or whatever else your menu provides can be held and packaged safely and quickly.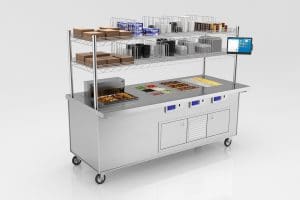 Increase labor efficiency
Del Taco is among the chains that have made a point of emphasizing increased labor efficiency in their new kitchen designs.
Smart equipment choices and a logical design can go a long way in making work more effective and efficient. Focus on reducing the number of steps that a worker needs to take to complete common tasks. How does that add up in time and energy over the course of a busy meal rush or a full day?
Because LTI's QuickSwitch assembly table serves as a one-stop shop for order assembly, it speeds service and reduces the labor needed to complete orders.
Make the most of square footage
Most of the newly announced prototypes have an overall smaller footprint, potentially leading to less space in the kitchen than there used to be. Independent restaurateurs, ghost kitchens and many other kinds of operations are also seeking opportunities to reduce their size, particularly in expensive urban areas.
Future kitchen designs need to support the same prepping, cooking and serving actions as before but in a smaller space. Because of this reality, multi-purpose equipment, already a key element for many operations, may gain even more prominence.
Here, too, QuickSwitch equipment can play a supporting role, allowing operators to shrink their footprint without decreasing their capacity to serve a broad and changing menu.
Plan for flexibility
Everyone hopes the pandemic will be the only massive society-altering event of our lives, but it has taught us that life (and business) can change on a dime.
New or revamped restaurant designs should build in flexibility from the start. Here are 3 ideas to get you started.
[gpimb-btn-addto label="Add to Mood Book" ifnew="Add to Mood Book"]
[gpimb-btn-view label="View Mood Book" ifnew="View Mood Book"]