Resources
|
Blog
|
News
|
Serving Up Innovation: The Top 5 Trends in K-12 School Cafeteria Equipment and Design
Serving Up Innovation: The Top 5 Trends in K-12 School Cafeteria Equipment and Design
May 9, 2023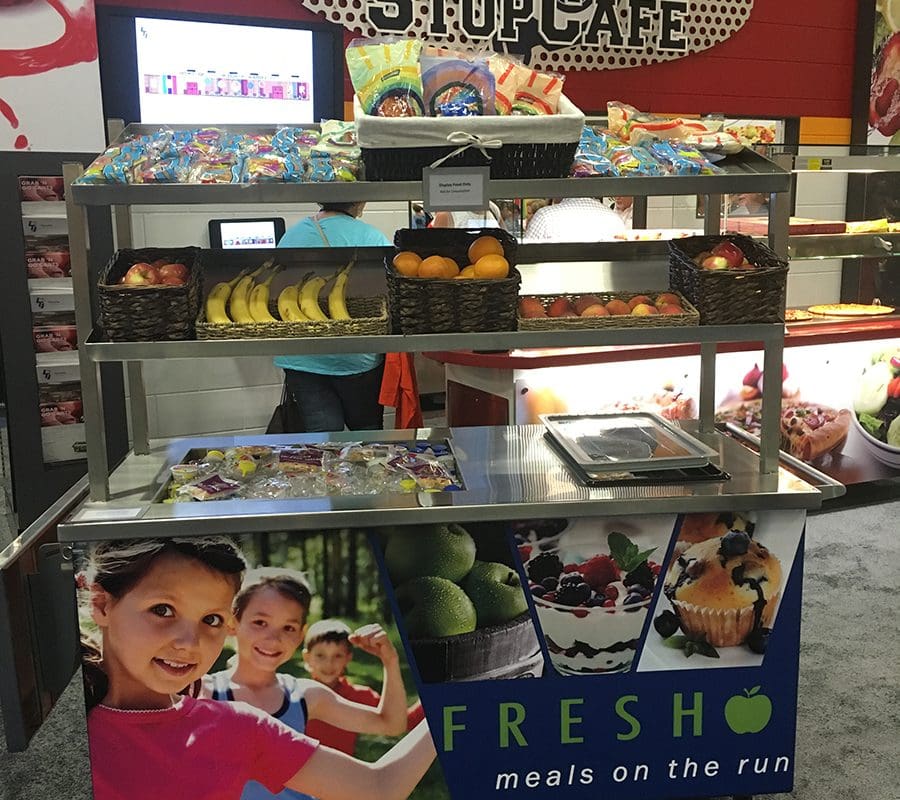 From new technology and equipment, to improved layouts and eco-friendliness, there are many exciting trends emerging in school cafeterias across the country. Let's explore the top five that are influencing school cafeterias across the country and leading the way to more efficient and crowd-pleasing methods to serve students.
Trend 1: Upgrading cafeteria serving line equipment.
Efficient serving line equipment and a careful layout strategy is critical to ensuring that students can quickly and easily get the food they need during lunchtime.  A serving line's layout can contribute to slow lines caused by the flow of students between stations and a lack of efficiently designed equipment can exacerbate issues. Some of the top ways schools are upgrading equipment include:
choose between temperature options and switch from one to another in under an hour. QuickSwitch food wells sit flush to the counter, which gives a lot of flexibility in menu design from day-to-day and even hour-to-hour.
Using mobile or grab-and-go serving carts: Incorporating mobile carts can provide an excellent way to serve up to 250 snacks, breakfasts or lunches efficiently and when space is limited.  They come with many options and can be fitted with menu boards and decorative graphics.
Using 2-tier vertical serving options. The ceilings above a serving line can be nine or 10 feet tall, giving lots of options for vertical merchandising that places more items in one location for quick and easy access.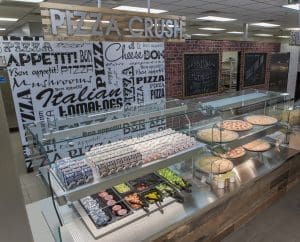 Trend 2: Incorporating new layouts that increase efficiency.
Your serving line is only as fast as your slowest point, and if that point is the final stage of the lunch purchase, no merchandising or serving adjustments alone will speed up the process. Many schools are adopting new layouts that are designed to improve efficiency and reduce congestion. These include:
Utilizing scatter layouts. This type of layout places different food stations throughout the cafeteria instead of having one centralized serving area. Scatter layouts can help reduce bottlenecks and congestion and make it easier for students to get the food they want.
Developing food court-style layouts. This involves setting up different stations or kiosks that offer different types of cuisine. For example, there could be a station for pizza, a station for Asian cuisine, and a station for Mexican cuisine.
Hiring an expert. Hiring a design expert to provide consultation may prove invaluable. Having an LTI designer work with you (at no cost!) will offer a host of solution options you may not have even thought about!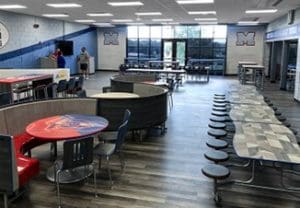 Trend 3: Using new tech to reduce wait times.
There are many other new technologies available to school cafeterias that assist with reducing wait times and increasing efficiency. These include:
Using digital menu management systems. By going digital with menus, it is easier to display food choices, nutritional information and allergen warnings to students, helping them to make choices quickly.
Utilizing mobile ordering apps and self-service bar codes. Incorporating new app technology allows students to place their orders from their smartphones, pay for their food remotely, and even pick up their order at designated times.
Purchasing mobile cash registers. Employing mobile or tablet-based cash register systems will allow staff to take orders and process payments from anywhere in the cafeteria.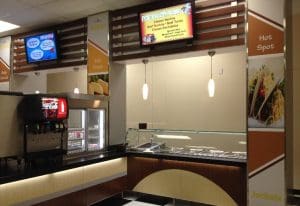 Trend 4: Amping up school spirit.
Creating a sense of school spirit and community is important in any educational setting, and the cafeteria is no exception! Cafeterias can hype up morale by:
Using walls to leave an impact. Don't forget an otherwise blank canvas to increase school spirit!
Incorporating school spirit themes. This can include using school colors and logos on signage and decorations and transforming your cafeteria walls with a vibrant theme.
Naming feature foods. Some schools create menus with food items named after school mascots or landmarks. Get creative and fun with it!
Newburg Enlarged City School District in New York incorporated a turf wall where students could gather and take selfies with a themed backdrop.
Creating social spaces. It is very important to provide opportunities for students to socialize and connect during lunchtime and are now incorporating social spaces into their cafeteria design, such as comfortable lounge areas or outdoor seating areas.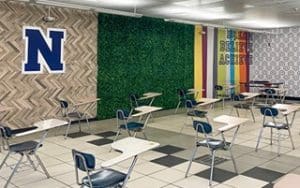 Trend 5:  Going eco-friendly.
As schools become more conscious of their carbon footprint and the need to think in terms of sustainability, several new trends have emerged, such as:
Using biodegradable packaging materials: According to the EPA, biodegradable materials for packaging can result in reduced plastic waste, lower greenhouse gas emissions, and guarantee the sustainable use of resources
Using energy-efficient LED lighting and equipment: LED lighting is more energy-efficient, durable, and flexible than traditional lighting, and it can improve the overall appearance of the cafeteria. Energy-efficient equipment has the added benefit of saving money on utility costs.
Reducing food waste: By adding customization stations where students can pick the exact ingredients or toppings they want on their meal, the amount of discarded food is vastly reduced.
By taking advantage of the efficiencies these five trends offer, schools can create a welcoming and efficient mealtime environment that promotes a sense of belonging, and boosts participation rates —sometimes as much as 35 percent!
Want help deciding what ways you can utilize these trends to upgrade your K-12 school cafeteria serving line? Reach out to LTI experts today for advice.
[custom-related-posts]