Getting to know LTI serving counter options: An explainer
April 21, 2022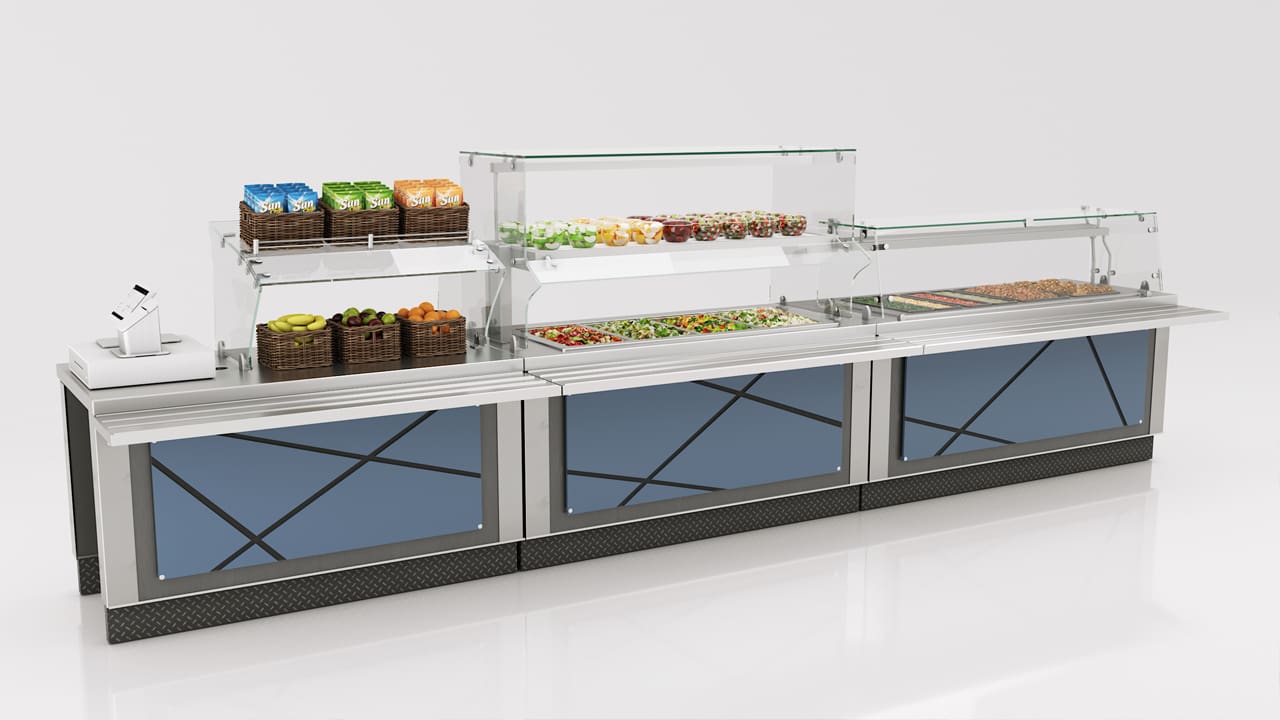 LTI knows that choosing and designing a serving counter can be a challenging process, with a lot on the line — so to speak — to ensure you're ready to meet the needs of your customers. Whether you're building a new school cafeteria, refurbishing a hospital dining area or outfitting a corporate eatery, LTI has the counter solutions that are ideal for any environment.
But how do you decide? The best solution for your facility depends on a range of factors, including serving style, design preferences and budget.
As a leader in food serving equipment and technology, LTI wants to help make the process simpler. So we've put together this convenient explainer that details the counter line options from LTI and guides you to the choice that'll work best for your operation.
The lines
LTI serving counters fall into five broad categories.
SpecLine by LTI
SpecLine by LTI counters are fiberglass modular counters that come factory built. They feature stainless steel countertops with reinforced, fully welded interior framework for longer life.
SpecLine counters can be outfitted with decorative laminates, colors and vinyl graphic options to coordinate with your design.
These counters are available in several standard sizes. Custom sizes are also available.
SpecLine by LTI counters are a frequent choice for K-12 schools where durability and budget are leading considerations.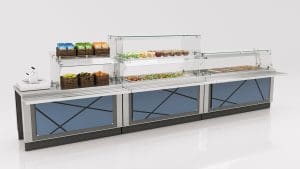 FlexLine
FlexLine is the next level in modular solutions, offering a high-end appearance with modular convenience.
A heavy-duty, laser-cut welded steel frame is paired with Wilsonart Solid Surface countertops. Lift-off front panels shield ventilation louvers and provide ease of installation and service.
FlexLine serving counters are mounted on casters or legs to fit specific application needs — available in both standard and custom sizes.
FlexLine is a reliable, appealing choice for hospitality venues and other areas where a higher-end design is desired.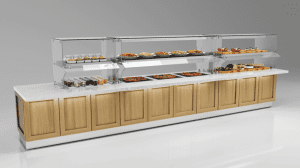 SelectLine
SelectLine counters provide a built-in look and customizable options to provide an installation that feels fully custom.
Made of heavy-duty, welded steel frame, SelectLine is available in three distinct body types and is customizable by size and shape to accommodate facility needs.
Multiple available materials and finishes are available, including solid surface, stone, stainless, Wilsonart Solid Surface, wood, laminate, acrylic and more to accomplish the desired design appearance.
SelectLine counters have no size restraints and are designed to be in one section or multiple sections with seamless design.
Assembled at the factory or on-site, SelectLine counters are ideal for corporate, healthcare or other higher-end environments.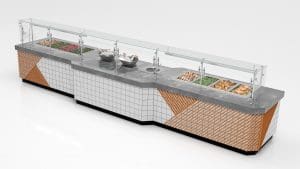 Custom
For the foodservice facility with specific needs, LTI offers fully custom counters available in a wide array of shapes, sizes and materials.
LTI's experienced craftspeople build and install the counters, streamlining coordination and installation. Custom counters come with all needed components, including counters, mechanical devices, food shields and food wells.
Custom LTI counters are the perfect solution for any environment where full control of design and appearance is desired and are particularly suitable for areas with unique shapes or needs.
All LTI serving counters feature NSF compliant construction, are UL listed and compatible with LTI's industry-leading serving technologies, including the patented QuickSwitch.
Contact LTI today to learn more or get started on your next project.
[custom-related-posts]