Unsure about modular serving counters? This is your FAQ
October 3, 2019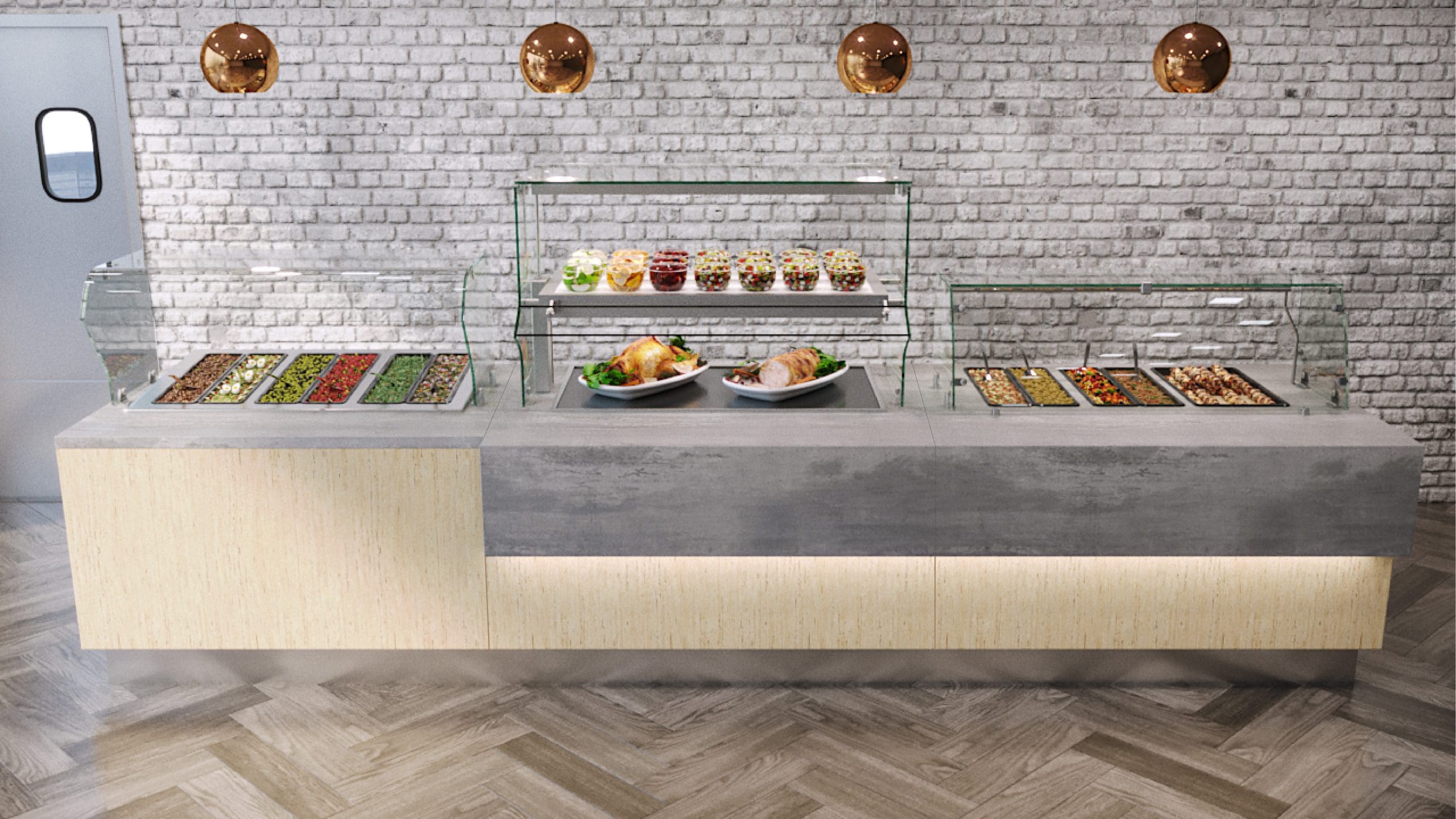 Foodservice operators have two choices when it comes to installing new serving counters: custom one-piece counters or modular counters.
If it was only that simple.
Any operator who has gone through the process of installing or renovating serving counters knows the vast number of decisions surrounding counter design. It's almost easier for those with a spare-no-expense-budget — pick whatever your heart desires and bring concept to reality. For those on a budget, however, aligning aesthetics and function with feasibility can be difficult. Fortunately for those who need a lower cost option but still want some customization, there are choices.
High-end modular counters can provide the best of both worlds, but still come with questions. Here are answers to our more frequently asked questions we receive regarding modular counters:
I just want to save money. Is going with a modular counter the best way to do that?
The short answer is, yes. In general, going with a modular counter will be less expensive than a custom one-piece design. However, price will come down to the finishes that you choose. For those operators who want a custom look but need the flexibility of a modular counter, the same high-end finishes of a custom counter are all available.
What advantages do I have with a modular counter?
One-piece counters are typically welded together, limiting their flexibility. With modular counters installation and relocation are far easier as each section is made as a self-contained unit. When it comes to price, modular counters are typically going to be less expensive. Each section is built based on preexisting module, which helps deliver great consistency in product quality for each manufactured section. Because of the ease of installation, costs to do so will also typically run lower.
How many years can I expect to get out of a modular serving counter compared to a high-end one-piece counter?
Whether it's a custom, one-piece counter or a modular unit, you can expect the internal structure of an LTI counter to last a similar length of time (15-20 years easily). Where problems occur with any serving counter is with the mechanical elements, such as the hot wells or refrigerator units. As with any piece of foodservice equipment, the better these units are cared for, the longer they'll last.
Is there more than one type of modular counter available for my operation?
Yes. There are always multiple levels of construction with modular serving counters. LTI offers SpecLine by LTI and Flexline modular options. Both are defined by their levels of finish and construction. SpecLine by LTI is a heavy-duty product at an extremely affordable price., FlexLine will be a spare-no-expense modular option that will have more finished one-piece look.
I need a modular solution, but I want it to be customized to our existing aesthetic. Is that possible?
Again, yes. We can build just about anything to meet your needs. When it comes to matching aesthetic, we can typically get 85-95% of the way there. Certain trims, such as counter nosing, can be difficult to match. How we surround columns with a modular counter will also be different from that of a one-piece solution. The major area of difficulty for modular counters is the inability to produce them with curves or radiuses, but U, L or standard angle shapes are all possible.
How mobile is a modular counter?
Modular counters are designed to be moved if needed. The biggest benefit of being able to move individual sections comes when a component needs to be replaced. But, if sections are being moved more regularly, they can be built on legs or casters, allowing operators to move units around easily. For example, casters will make moving counters easier for accommodating menu changes or creating more space for better customer flow.
How does equipment replacement compare between modular and one-piece counters?
When it comes to replacing equipment, it is far easier to swap out equipment with a modular design. Operators need only to provide the serial number for that section of counter for us to find the associated part numbers and provide an exact replacement. Replacing a section of one-piece counter includes considerably more deconstruction and reconstruction and ultimately bears a higher price tag.
If you have more questions regarding modular serving counters, visit our FlexLine or SpecLine by LTI products pages or contact your local rep.
[gpimb-btn-addto label="Add to Mood Book" ifnew="Add to Mood Book"]
[gpimb-btn-view label="View Mood Book" ifnew="View Mood Book"]