Unlocking the Power POPS: LTI's Platform for Off-Premise Serving
July 26, 2023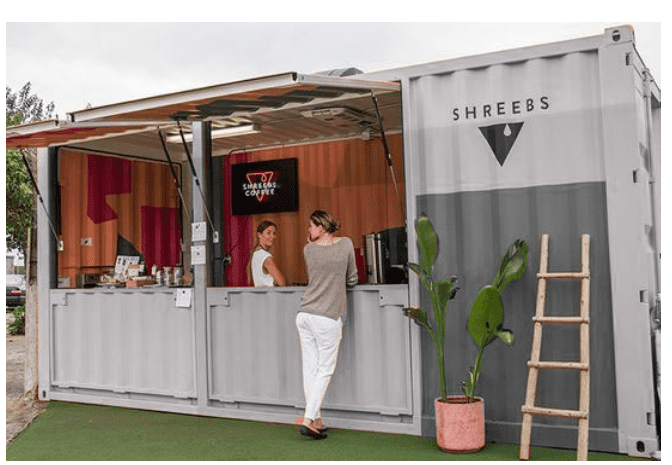 In today's dynamic foodservice landscape, traditional cafeterias are making way for an exciting new trend. LTI's Platform for Off-Premise Serving (POPS) is a self-supported, mobile servery that combines convenience in serving with the flexibility and variety modern diners seek.
These innovative and versatile setups are gaining popularity across various industries, including corporate offices, healthcare facilities, small restaurants and foodservice operations, and university campuses across the country.
Reinventing the way you serve
Imagine a foodservice solution that doesn't require massive amounts of square footage or a large on-site staff. LTI's POPS counters can be placed virtually anywhere, thanks to their small footprint and mobility. These setups can function essentially as a pop-up restaurant that's compact enough to be out of the way but robust enough to support a variety of menu options — from plated meals to pre-assembled and grab-and-go options.
POPS technology options
With LTI's Platinum Choice QuickSwitch serving technology incorporated into the design, POPS units have the flexibility to serve hot, cold and frozen foods side-by-side. The ultimate POPS setups feature a center serving counter with QuickSwitch food wells topped with independently controlled two-tiered convertible glass display shelves for even more flexibility to offer menu variety or some grab-and-go options.
Does a fiesta taco bar with sizzling hot meats and refreshing cold toppings sound appetizing?  Thanks to independently controlled wells, QuickSwitch technology can seamlessly transition between temperatures in under an hour. This level of versatility translates into a vast array of menu options for foodservice operations.
The center counter can be flanked by one or two optional towers, which can house equipment such as heated cabinets, mobile refrigerators or hand sinks — all of which is hidden from the view of the customer.
Additionally, an electrical load center panel can be added and installed inside one of the towers, allowing the serving unit to run off just one electrical connection to the building.
Bring on your local menu favorites!
Corporate offices are embracing the off-premise dining trend, and for good reason. Instead of investing in large, dedicated cafeterias, businesses are opting to place POPS setups around their campuses — for instance, in lobbies, courtyards, conference rooms or hallways — providing employees and visiting customers with easy access to popular menu choices.
Some businesses are discovering that partnerships with local restaurants or caterers can be mutually beneficial, bringing a taste of vibrant community flavors to the workplace. Often these menus are intentionally limited to two or three options, with a streamlined approach ensuring quick ordering and speedy service with pre-made favorite selections.
Realizing that younger generations of workers now prefer high-quality on-the-go dining options, some companies have forgone formal dining areas entirely and opted to install small remote eating areas throughout their buildings. This strategic approach caters to employees' preferences, making their dining experiences more convenient and enjoyable.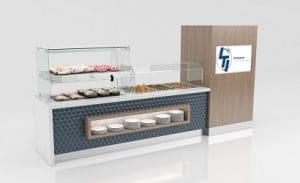 Potential POPS applications in other settings
While corporate environments have seen tremendous success with off-premises platforms, this serving model holds promise for other sectors as well. College and university dining facilities can leverage POPS units to enhance the dining experience for students, providing greater flexibility and variety. Hospitality environments, like hotels and conference centers, can offer POPS units as an upscale amenity, giving guests a taste of local cuisine and enhancing their overall experience.
POPS counters are cost-effective
LTI's POPS options offer a cost-effective solution for businesses without dedicated cafeterias, in addition to those wanting to add points-of-service. By keeping overhead costs low, these units deliver consistent value without sacrificing quality. They are efficient to operate, and staffing requirements can be kept to a minimum.
POPS units can fit in space as small as 8' x 3', giving operators a number of options when choosing locations within a facility. And units can be made mobile with the addition of casters.
Remember, the future of foodservice lies in adaptability, innovation, and creating unforgettable culinary experiences. And this is exactly what we are known for! LTI's Platform for Off-Premise Serving is at forefront of this exciting revolution in the foodservice industry.
To learn more about how the LTI POPS platform can work for your foodservice operation, contact us for more information!
[gpimb-btn-addto label="Add to Mood Book" ifnew="Add to Mood Book"]
[gpimb-btn-view label="View Mood Book" ifnew="View Mood Book"]