Not all hot wells are built equal
October 9, 2019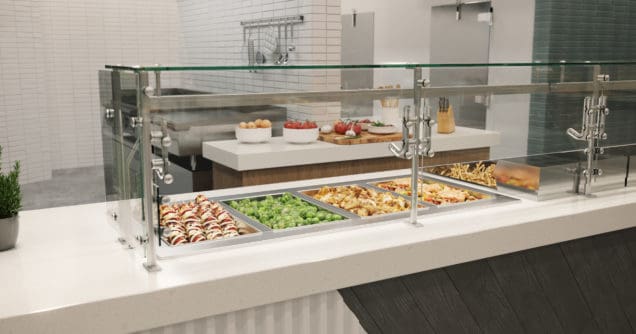 The days of using old calrod technology and mechanical controls are in the rearview mirror for a few manufacturers in the marketplace. Other ways of heating can include rope style heaters, silicone heating pads and induction; however, induction hot food display counters require the purchase of special pans to make the system work and comes with a higher purchase price, while also limiting pan configuration.
Built for energy savings
Newer heating sources allow operators better contact with the food well and provide a lower energy usage — saving hundreds of dollars overtime. Most calrods can range from 900 watts of power to 1500 watts, versus LTI's ThermalWell unit that operates on just 580 watts per well. This makes our Thermalwell one of only two manufacturers that offer sealed well units with power usage under 600 watts per well.
ThermalWell uses silicone heating pads that attach to the bottom of the pan and sidewalls, providing direct contact to the pan for better heat transfer. Couple this technology with a digital control that offers precise temperature holding, and operators now have better temperature holding and lower power usage.
With the ThermalWell's heating pad rated at 580 watts, operators are also given the ability to add up to twice as many hot wells using the same power as a 1200watt heating source from an alternative manufacturer. Operating with such capable equipment can save operators thousands of dollars in remodel electrical work when it comes to adding additional wells into a serving line.
In addition, average energy costs in the U.S. is 10.89* cents per kWh and lab testing shows some wells can use up to 3x as much for electricity against competitors models — again, costing operators thousands of dollars a year more on a single four-well unit alone.**
Built to perform
From a performance perspective, the heating pad with side-wall heat allows ThermalWell to provide even temperature holding in dry or wet heat. Dry heat can be a great option as it gives the same performance without the cost of plumbing and extra labor to manage the water levels in the pans.
In side-by-side lab testing with other well-known manufacturers of hot wells, the new ThermalWell with side-well heat delivered same temperature holding, despite using less power. With several sizes and configurations to choose from in standard or slimline configurations, LTI's ThermallWell is a perfect fit for any application wet, dry or combination of both.
*https://www.chooseenergy.com/electricity-rates-by-state/
**Lab testing conducted side by side with dry heat units. kWh collected on all units and used to estimate 8 hours run time, 6 days a week for 50 weeks a year range from savings of $160 to $750 per well.
[custom-related-posts]