9 Food and Food Serving Trends on the Rise in 2019
April 1, 2019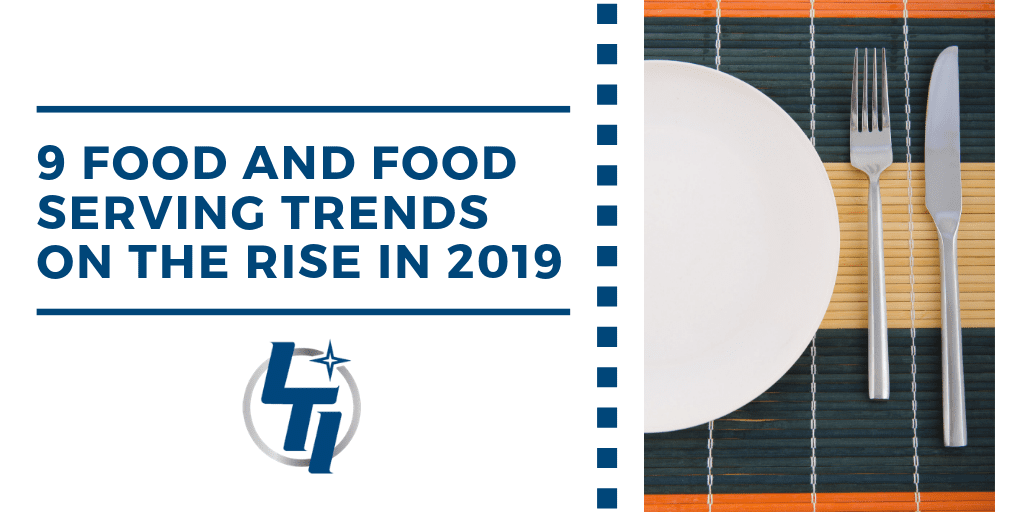 Operators are always interested in the foods and serving styles that are taking over the commercial and non-commercial food world. With that in mind, we've put together nine trends that are leading the industry into 2020. From speed and convenience to flavor diversity and food sharing, these are the trends consumers are flocking to.
Retail-like Merchandising and Convenience
If you had to pick one major theme that is trending throughout the foodservice industry, it would probably be speed. There might not be a greater example of demand for speed than with the growth of Grab 'n Go style merchandising. A perfect complement to today's fast-paced professional and academic lives, these modular serveries are making it easier to serve those who are looking for food at all hours and who (as the name implies) are on the go.
More Customization and Personalization
With the great success of the fast-casual system used in chains such as Chipotle, Moe's and Subway, expect to see more non-commercial serveries follow suit. Diners have an increasing desire to be more involved in the creation of their meal and want more of a say in how it is prepared. The popularity of this model is growing especially in the college and university space.
With the increasing interest to have it one's own way, be it in a retail, commercial or non-commercial setting, diners are showing greater enjoyment in foods made just for them. The ability to personalize a meal means there is endless variety and it is also easier for diners to satisfy dietary needs.
Perhaps the fastest growing food serving trend around the country is the food hall. An idea that isn't necessarily new — see Faneuil Hall in Boston — the food hall has been growing in prominence across the country in heavily urbanized developments. Because of their success in retail markets, the food hall is also growing in popularity in the non-commercial spaces of higher-education and corporate dining. According to a report by commercial real estate firm, Cushman and Wakefield, by 2020 there will be over 200 major halls across the US — tripling the 2015 total of 70.
The demand and popularity of the food hall comes with a number of dining benefits. First and foremost, they cater to groups of people dining who all want something different. Food halls will generally feature multiple cultural styles of food, breakfast, lunch and dinner options and a variety of portion sizes.
In a 2013 study done by the Center for Disease Control, between 1997 and 2011 food allergies in children increased by 50 percent. It's of little surprise that eight years later the demand for food that is easily distinguished as "safe" for those with food allergies is growing. This is especially true in the college and university environment where the children from the CDC study are now students and need specific dining options. Campuses across the country are adding more designated food stations than ever before. From gluten-free to peanut and tree nut-free foods, dining halls are not just labeling foods as such, but giving them their own full-time serving line in attempt to provide a safer dining experience. This feature also helps in the recruiting process as a rising number of students look for schools that can meet their allergen needs.
Palates are always changing. It seems each decade has a new "it" flavor. As we head towards 2020, consumers have shifted their demands to more eastern cuisine. Pacific Rim or Filipino dishes are on the rise for their tart flavors. Korean style kimchi is trending for its health benefits (loaded with vitamins A, B and C and probiotic benefits) and the ability to use it in so many dishes — from eggs to tacos to pizza and rice dishes. Also, taking over is traditional Middle Eastern fare such as tahini and hummus that comes with the growing taste trend of regional spices like tarragon, coriander, dill and garlic.
Burrito bowls, poke bowls, acai bowls and smoothie bowls — the trendy food bowl is growing in popularity because of its ability to transform nearly any blend of flavors and foods into a comfort food. When paired with a lid, the bowl is also a convenient vessel for taking your meal on the go between meetings or classes and is easy to eat while standing at social events. Typically comprised of natural and whole ingredients (vegetables, fruits, legumes and proteins), the bowl is also catching on as a dining option for health-conscious consumers.
Research done by the Coca-Cola Company's DINE360 shows that snacks account for 11 percent of all visits of restaurants and stores by consumers. As we've mentioned, life is getting more fast paced and people have less time to sit down for three full meals. To replace that, consumers are looking for more options that are quick, easy and will hold them over for just a couple hours. This growing trend has increased the hours that snacking options are available. On college and university campuses all over the country, as well as in larger corporate environments and even in the K-12 space, snacks are more readily available at all hours of the day.
With the growth of communal dining growing, it's no wonder that customers also want food options that are more sharable. This has increased the demand for smaller plates with appetizer-like portion sizes that serve as the main course. Tacos, sliders and combo plates all make for a more social and interactive dining experience.
"Food conscious" is one way to describe today's dining public. Between the growth in food allergies and story lines such as the recent romaine lettuce recall, people want to know where their food is coming from and that it's safe to eat. This has led to an increase in demand for food that contains local ingredients, is "locally sourced" or comes "farm-to-table."  Consumers want to know that their food comes with a certain amount of social responsibility, that their proteins were ethically produced and even that there are sustainable food waste and recycling programs in place. These factors have assisted in the growth of trend #3 — food halls — which are generally filled with local businesses that consumers can more easily connect with on levels of ethics and sustainability.
Interested in how your customers' operations can capitalize on these growing trends? Contact your local LTI rep to learn more about how our new state-of-the-art facility can help improve your operations throughput needs to create the dining experience today's customers expect.
[gpimb-btn-addto label="Add to Mood Book" ifnew="Add to Mood Book"]
[gpimb-btn-view label="View Mood Book" ifnew="View Mood Book"]