Understanding Your Renovation Timeline: "How long will this take?"
February 28, 2019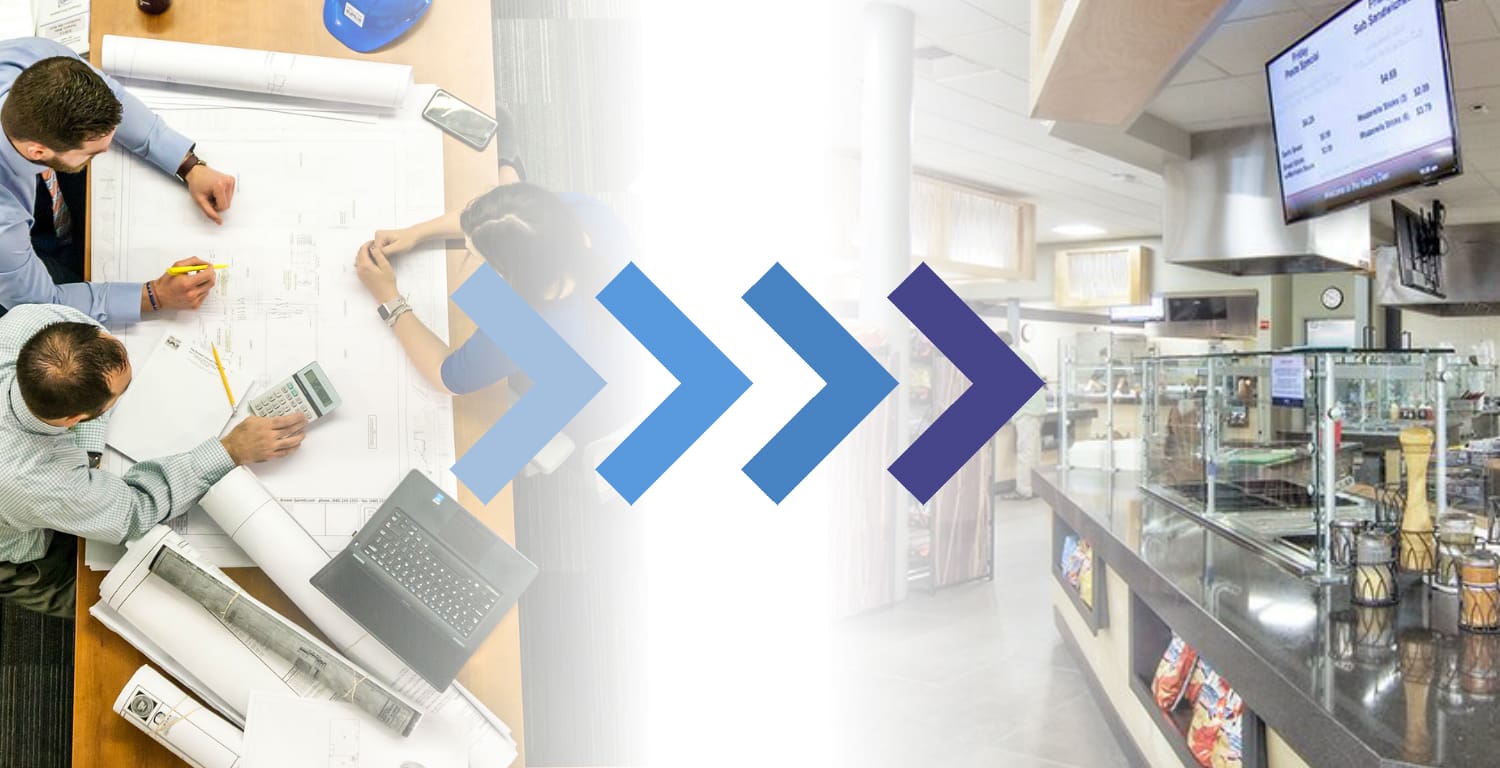 It's a question we're all too familiar with. It's also a question that doesn't come with a simple answer. The reality of building out or renovating a cafeteria, food court or dining hall, is that there are a lot of steps. The process can be broken down into five stages and those that have stuck to the process and patiently worked through each stage would tell you, it's all worth it in the end.
The renovation process can be broken down into five stages. We'll walk through each, using a K-12 cafeteria renovation as our hypothetical scenario.
Stage 1: Discovery
You've decided you want to update the current serving situation in your facility. To create a successful design, we first need to establish why you want to take on this project. There could be an overall sense of chaos that needs to be mitigated or you've run out of viable power options. Maybe you're having trouble with loss prevention or perhaps you have just completely run out of room for additional offerings? Determine the critical reasons for the renovation and you will avoid those challenges the future.
After identifying the major issues plaguing your operation, take a week or two to observe the daily serving line routine, take notes and poll your staff members on what is and isn't working.  This way you'll be prepared to bring all relevant information to the table with a stronger sense of what the underlying problems are.
Stage 2: Design
Your current serving layout is just not working. You know it could be more efficient and more productive, but you simply are not sure what would make for the best design. Fortunately, there are resources at your disposal to ensure the renovation is a success — primarily the members of your team.
Between you, an architect, foodservice consultant, the selected serving counter manufacturer, other key staff and stakeholders (don't forget your students), you should be able to gain all the insight needed and have the right experts hired to research and consult on your renovation.
In addition to using these team members, you can research other recently built operations. Ask your industry peers where the best new projects are. Don't forget to also research where your customers currently enjoy eating when they are not dining with you. Do they frequent local QSRs, delis or pizzerias? You will most likely want to incorporate some of the concepts from those establishments into your new operation.
Stage 3: Develop
During this stage you'll establish your wants. Between serving line style, types of serving stations, the overall aesthetic look and feel and materials to be used, there can be a lot to consider. Once the scope of the project has been identified, you can begin to cross reference the requested features with your budget to ensure the needs are met first, followed by the wants. With the final decisions in place, the design team can begin getting a plan on paper.
Stage 4: Deploy
Satisfied with a design and a budget, it's time to procure the project. Between waiting for bids to come in, reviewing them, waiting on your school board's approval and finally awarding the project, this process could take weeks. The length of this process further emphasizes the need to start early on these projects if there is a drop-dead date for completion. Keep in mind that there may be national or local purchasing contracts that you can buy off. If so, this can be a step that will save much needed time and ensure that you get exactly what you want.
When the job is finally awarded, there will then be another round of designs with manufacturer's shop drawings to reach a final approved plan. Here the focus will be verifying the dimensions, electrical requirements, colors and finish selections.
Once the design has final approval and is signed-off on by the you (the end user), architect, consultant, school, dealer or any other stakeholders involved, manufacturing can begin. The timeline for equipment construction will vary depending on job size, but you can expect it to ship to your location in about seven to 10 weeks.
Stage 5: Delight
After weeks of planning, revising and constructing, this is where your new serving line finally comes to life. From the stone and Wilsonart Solid Surface to the glass and millwork, LTI provides complete turnkey installation. Depending on the size of the project and the equipment being delivered, the installation process can be accomplished in as little as a few hours or over the course of a couple weeks. After the installation of your new equipment and all the welding, painting, signage and furniture that comes along with it, you'll see that your patience to go through this process for building out a custom serving line is all worth it.
So, to answer the question, "How long will this take?" The short answer is, several months, which means planning is vital — the sooner, the better. Start the process as early as possible, be thorough in your research and needs analysis and put together a design team that can assist you from every angle – from student insight to cabinet dimensions. But perhaps most important, make the process fun. This is an exciting time for your program and what you create could be in place for the next 30 or more years. So, take care to give the process your all.
Interested in getting started on your renovation? Contact your local LTI rep today and get the process underway early.
[gpimb-btn-addto label="Add to Mood Book" ifnew="Add to Mood Book"]
[gpimb-btn-view label="View Mood Book" ifnew="View Mood Book"]