Resources
|
Blog
|
News
|
How embracing flexibility helped this university's dining program meet its mission even during the pandemic
How embracing flexibility helped this university's dining program meet its mission even during the pandemic
April 21, 2021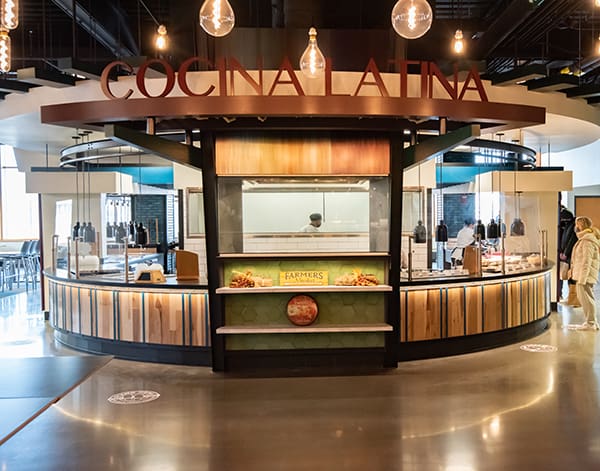 When students began returning to in-person classes at the University of Massachusetts Amherst in the fall of 2020, the leaders of the dining program knew they had challenges ahead of them.
Coronavirus-related issues of safety, hygiene and crowd control were added to responsibilities that already included making appealing and nutritious food, keeping menus interesting, and operating efficiently.
While they could have switched to all cold, prepackaged foods to make serving fast and easy, school leaders wanted to find a way to hold true to their mission of creating a memorable dining experience.
"Food is something we cannot skimp on," said Alex Ong, director of culinary excellence. "We can't help students study for their exams, but we can say we've got good food here and it's going to make you happy."
Challenging circumstances
Limitations on in-person dining, changes to dining hall procedures to prevent the spread of disease and the reality of staff reductions made it impossible for the school to continue operating as they had previously.
That's where a little creativity and the right tools made all the difference. QuickSwitch convertible food wells from LTI was one of the solutions.
Ong said the team started the semester simply, with a more subdued menu to determine what kind of procedures would work best under the new guidelines. Then they gradually ramped up, offering increasingly broader dining alternatives.
QuickSwitch temperature-switching wells were an important tool to help Ong and his team develop and execute a successful plan. Because they can hold hot, cold and frozen foods side-by-side — and can switch between temperatures in an hour or less — QuickSwitch wells provided the flexibility to experiment with new foods and food combinations without battling equipment limitations.
"Our focus was to keep the menu simple but good and then continually add variety by changing up the menu on a routine basis," said Garett DiStefano, director of dining services for the university. "If you do that, students feel like they're getting a great experience."
Even more changes
The pandemic coincided with another significant change for the UMass dining team — the opening of Worcester Commons, a new multi-level dining and recreation facility.
Built to house 12 different dining concepts, Worcester Commons operated in only a fraction of the available space at its opening, accommodating both a reduced student population and operation by a smaller staff.
QuickSwitch was critical for this transition, as well. Thanks to the inherent flexibility of QuickSwitch, food stations could be repurposed beyond the original design. What may have started as a salad and cold sandwich bar could now serve everything from tacos to poke.
"We don't have to worry about mixing and matching different equipment to make this work," DiStefano said.
The serving line equipment flexibility is also what allowed the dining services team to continue to use food to cultivate a sense of community on campus with special events like an ice cream sundae bar. From frozen ice cream to cold fruits and hot fudge, everything was able to be served from one counter using QuickSwitch.
"We're really testing the flexibility we can get out of our equipment, seeing how creatively we can use it," DiStefano said. "We would have had to put two or three pieces of traditional equipment together to do that one ice cream event, but with the QuickSwitch, we can really think outside the box to offer students a memorable experience.
"We like working with LTI because we want a company that works hand in hand with us and understands what feeding thousands of people is like," he added.
See how LTI's QuickSwitch has also been critical in updating everything from the cafeteria of a major historical landmark to a state-of-the-art STEAM-based high school.
[custom-related-posts]