Orange County Convention Center
Orlando, FL
[gpimb-btn-addto label="Add to Mood Book" ifnew="Add to Mood Book"]
[gpimb-btn-view label="View Mood Book" ifnew="View Mood Book"]
After 30 years of regular use, it was time for the food courts at Orange County Convention Center in Orlando, FL, to be renovated. Tom Galvin, FCSI, knew it was an important opportunity to introduce more functionality to the facility's foodservice.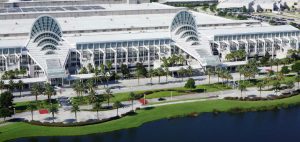 The convention center's food services operator expressed frustration that similar projects had resulted in equipment choices that left them backed into a corner when it came to menu options. They wanted a change.
"Flexibility was a key word on this project," said Galvin, of Galvin Design Group, food facilities consultants based in Winter Garden, FL.
In order to get the desired flexibility, Galvin knew he needed convertible wells — QuickSwitch from LTI. He reached out to LTI and local Florida manufacturer's rep, Randy Souza with Eaton Marketing Reps to get things started.
"The key part of the counters is making sure we have QuickSwitch wells," said Galvin, who has relied on QuickSwitch products for many projects in hotels, restaurants and other facilities.
"That gave us all the flexibility to provide breakfast, lunch and dinner from the same space," he said.
QuickSwitch wells can switch between temperatures in an hour and can hold hot, cold and frozen foods side by side. The easy change means a counter can serve hot eggs and sausage at breakfast, cold salads at lunch and then switch back to heated for pasta at night.
And within a specific meal, the side-by-side functionality makes serving easier and more convenient.
"Take a taco bar, for instance. On a traditional counter, I'd have to get my shell and meats from the heated wells and then walk to another area for sour cream, cheese and other cold toppings. But with QuickSwitch, we can serve shells, meats, toppings, everything we need side by side in a smaller space," Galvin said. "And then all the other wells are available for other foods to provide more menu options."
Flexible equipment like QuickSwitch wells and QuickSwitch glass shelves, installed in every food station except for dedicated coffee shops, also allow the stations to modify their themed servings. Rather than being stuck as a taco station or a burger station or a salad station, each area can use the flexible equipment to serve whatever foods are in high demand.
Big beef convention going on at the center? They're probably going to want more burger stations. Convention with a large Hispanic attendance? Taco areas might be more in demand.
"All the stations can change out their menu boards and have the flexibility of all that equipment, Galvin said. "Once you show the chef the flexibility, they love how that opens things up for them."
Learn more about QuickSwitch at https://lowtempind.com/product/quickswitch/.