About LTI
Company History

71 years and growing.
In 1947, the late William B. Casey, a North Carolinian, elected to leave the family sawmill and try his hand at a different business. Casey joined his brother-in-law, the late Ed Rawls, owner of the Refrigeration Exchange Company in Atlanta, Georgia. At first, the company sold refrigerated meat cases and soft drink boxes. Casey and Rawls soon determined that manufacturing the equipment was a challenge they were ready to meet, and along with Casey's sister, Bertha Casey Hammonds, Low Temp Manufacturing Company was founded.
The original plant, a modest structure which also housed a showroom and offices, was located on the south end of the current property in Jonesboro, Georgia. During its first year of operation, Low Temp had a mere five employees and turned a profit of $51.52. The company grew and remained viable in the ensuing decade. Fire destroyed the plant in 1958 – nearly ending the growing company. Nevertheless, operations continued with a reduced workforce consisting of family members and a handful of loyal employees. Working out of the basement of a downtown Jonesboro grocery store, the company survived.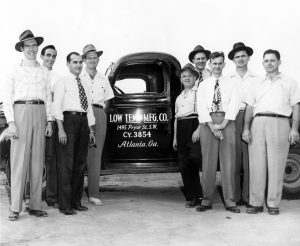 By 1959, through hard work and determination, Low Temp had moved into its present-day facilities and was once again operating at full capacity. W. B. Casey had become the President and CEO of the company and remained so until his death in 1994. At that time, William E. (Bill) Casey, then Executive Vice President, took over as President, CEO and Chairman of the Board. Bill Casey, his wife and children hold full ownership of Low Temp and have since the late 90s.
Since 1959, LTI's facilities have seen eight expansions. With three separate divisions, LTI occupies over 200,000 square feet of plant space on 17.5 acres. Our employee headcount has grown to approximately 165. Continuing the strong tradition of family ownership, quality products and excellent service, LTI is one of the country's leading innovators and manufacturers of custom food service equipment and décor.
In 2017, we celebrated 70 strong years and announced plans to build a new company headquarters.
2018 was a monumental milestone for LTI. We broke ground on a brand new headquarters facility in March and opened the new doors in November. We're so proud of our incredible team who continued to build customer projects, never skipping a beat during the relocation process.