Lunch in the classroom: How schools can plan for and support remote serving demands
September 8, 2021
Even as the Covid-19 Delta variant threatens school populations in many parts of the country, most schools are opening their doors to a full complement of students for the first time in more than a year.
Increasing distance between people and decreasing density in crowded spaces continues to be a recommended Covid-19 mitigation strategy, and CDC guidance for schools specifically recommends "using additional space outside of the cafeteria for mealtime." Potential options like outdoor areas or the school gym facilitate distancing between students at a time when masks are, by necessity, not worn.
In response, some schools and districts will serve some or all school meals in classrooms to reduce the risk of disease transmission among students and staff.
A successful remote serving program requires school nutrition leaders to attend to various considerations, from what food to prepare to how to deliver it. Here are some of the leading issues facing schools and ideas for addressing them:
Staffing
Is there adequate staff to not only cook and package meals but also to deliver them to classrooms, hallways or other remote locations throughout the school?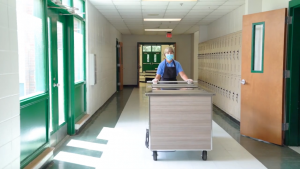 Warren DeShields, director of food services at Bridgeton Public Schools in New Jersey, said his district has redistributed staff throughout the district in order to support remote serving needs. Some larger schools will need more staff simply to get meals to far-flung corners of a big campus; others can make do with fewer people.
To keep the demands manageable, nutrition staff enlist the help of teachers or students to help distribute meals to individuals once the cart of food arrives to their hall or classroom.
Cooking
Can you continue to provide the same foods in a remote serving situation as in traditional cafeteria service?
Considerations like time to prepare, whether foods are able to be efficiently packaged for transport, if the meal is one that remains appetizing upon delivery, if it's potentially too messy for a classroom environment and more can factor into whether a menu change is warranted when switching to all or partial remote service.
The shift to classroom feeding meant the Bridgeton schools' cafeterias had to change their menus a bit, switching one food option to a prepackaged item like grilled cheese or PB&J. This change reduces the amount of time needed to prepare meals so staff have time for meal transport.
What was a 6-week cycle menu was pared down to a 4-week cycle to simplify planning. And the reduced menu was crafted with foods that were transportable and that could reliably be sourced all year long, DeShields said. In case schools are required to feed the entire school in the classroom at some point, the district is prepared to make the switch without revisiting the menu.
Packaging
What kind of packaging will be required for remote service, and will acquiring it pose challenges or incur higher costs?
Boxes for transporting meals are more expensive than traditionally plated meals, DeShields said, but it's a necessary expense to ensure food is delivered safely and without excessive mess.
Schools may consider investing in packaging equipment, like bagging or sealing machines, to reduce the labor needed to package meals and to ensure food is appropriately packaged for safety and accessibility.
Equipment
Do you have equipment to efficiently transport food away from the cafeteria while maintaining safe holding temperatures?
Some schools may already be providing breakfast in classrooms, as is the case with several schools in DeShields' district, or snacks in the hallways and thus have a head start on the food delivery front.
For those who haven't delivered food previously, additional equipment may be needed to ensure safe delivery. DeShields said his district was able to purchase additional mobile equipment using ESSER funding.
Transport equipment options may include simple rolling racks or more advanced temperature-controlled options. DeShields says his team uses both options, depending on how far the food has to go and how long it'll take to get there.
To ensure safety, food temperature should be checked before it leaves the cafeteria and again before it is served.
LTI can support a remote serving program with several mobile options that not only make transport a snap but also keep hot foods hot and cold foods cold.
ExpressLine from LTI is purpose-built to support mobile feeding needs. These portable counters hold prepackaged foods at safe hot or cold temperatures, and heavy-duty casters make them easy to transport. And since they can be plugged into any standard outlet, ExpressLine counters require no special wiring to provide proper heating and cooling.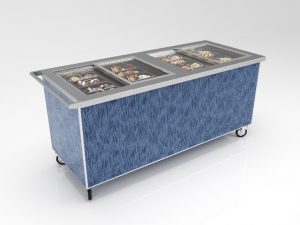 The ExpressLine Compact version provides even easier portability but with enough capacity to feed an entire elementary school wing from one unit. (See a video of this unit in action here.)
Or explore LTI's wide selection of mobile Grab 'N Go carts. They are available in a number of sizes and configurations to meet any school's needs — including insulated wells for hot and cold food items, overshelves for additional serving capacity and push handles for easy mobility.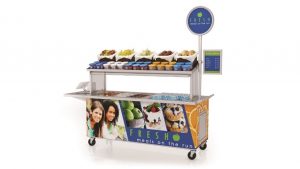 [gpimb-btn-addto label="Add to Mood Book" ifnew="Add to Mood Book"]
[gpimb-btn-view label="View Mood Book" ifnew="View Mood Book"]