LTI Recognizes Two Outstanding Rep Groups
February 15, 2023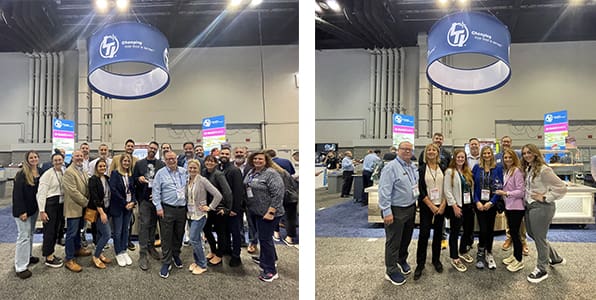 LTI, Inc., a leading manufacturer and designer of modular and custom serving counters, fabrication, and advanced serving technologies, has awarded two rep groups for stellar achievements in the 2022 year. Eaton Marketing received the honor of Rep Group of the Year, while Cre8tive Hospitality Solutions was designated Most Improved Rep Group. The accolades were announced last week at NAFEM 2023 in Orlando, Florida.
Eaton Marketing has a 25-year history as a family-owned and operated company serving the Florida territory and has partnered with LTI in the delivery of commercial food serving solutions since 2002.
"Eaton Marketing is truly an industry leader," said Mike Purcell, Vice President of Sales and Marketing. "This organization consistently goes above and beyond to provide top-notch service to their customers."
Cre8tive Hospitality Solutions, based in Leawood, Kansas, provides creative consulting services to all avenues of the foodservice industry. Organized in 1981, Cre8tive Hospitality Solutions serves Iowa, Kansas, Missouri and Nebraska, and has partnered with LTI for more than 20 years.
"We wanted to call out the achievements of Cre8tive Hospitality Solutions this year," said Purcell. "It's been rewarding to watch them grow in leaps and bounds, and we thank them for such an evident commitment to excellence."
Each year LTI strives to recognize the outstanding achievements of rep groups that demonstrate the value of true partnership, creative engagement and a commitment to mutual success.
[gpimb-btn-addto label="Add to Mood Book" ifnew="Add to Mood Book"]
[gpimb-btn-view label="View Mood Book" ifnew="View Mood Book"]