3 ways consultants can help support new and changing K-12 feeding needs
November 20, 2020
The impact of COVID-19 on K-12 schools has been dramatic. From virtual learning to socially distanced classrooms, the changes have been pervasive and have left almost no aspect of the education system untouched, including the cafeteria.
Feeding in K-12 schools has faced significant challenges to keep students well fed, whether they are learning in school or at home.
Since the traditionally bustling school cafeteria is mostly off-limits during the pandemic, schools have spent the past several months developing creative ways to feed students safely.
The decision by the U.S. Department of Agriculture (USDA) to allow schools to offer free meals to all students through the 2020-2021 school year has also ramped up the number of students eating on a regular basis for many schools.
At a recent Foodservice Consultants Society International (FCSI) Southeast chapter meeting, hosted by LTI, consultants heard from Keshia Williams, school nutrition coordinator for Coweta County Schools in Georgia, about the issues.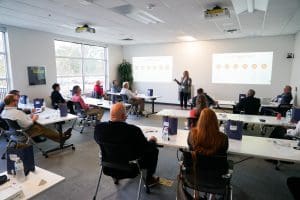 Below are three challenges school dining programs are facing and solutions consultants should keep in mind when helping to address them.
The problem: Unique needs require unexpected adaptation
Delivery has become a prominent feature for many school food programs — whether delivering food directly to classrooms or delivering meals to students in the community via ongoing feeding programs. These increased mobility needs, as well as growing capacity demands to prepare for high-volume take-home meals, has revealed limitations of traditional kitchen equipment and layout.
The solution: Prepare for versatility
During the initial months of the pandemic, equipment to deliver good, appealing food safely wasn't available, so schools often relied on ambient-temperature foods like peanut butter and jelly sandwiches or corn dogs in order to feed students.
As months have passed and kitchens and equipment providers have adapted, options like LTI's ExpressLine series of portable cold and hot food serving counters have become available to support these changing needs. And these counters can continue to be valuable in a post-COVID world, serving as additional points of service in a cafeteria, as dining "outposts" in remote locations, for special catering events and more.
Consultants can also help schools further prepare by ensuring equipment choices are able to adapt to whatever may come by carefully comparing technical features to ideally match performance with application. For example, drop-ins that have multiple temperature settings and can switch from hot to cold (like QuickSwitch from LTI) allow for much greater menu flexibility.
In addition, Williams pointed out that overall kitchen design would benefit from incorporating staging areas where food for delivery can be managed and packed, away from the tight quarters of the kitchen. Consultants can help by considering how to select and position equipment to free up space for needs such as these.
The problem: Old problems cast in a new light
In addition to introducing new complications, COVID has also exacerbated and shed light on existing issues that should be taken into account in the future.
For example, the people selecting the equipment to be used in a feeding program are often not the ones using it on a day-to-day basis, and that gap is starting to show.
Because of the increase in delivery and off-site feeding, carts and other equipment are being moved more often and across more distances now than in the past. Stereotypically, it's what Williams called LOLs — little old lunch ladies — who are doing the work of pushing often heavy and cumbersome equipment up ramps or over uneven surfaces.
The solution: More consideration for IRL (in real life) users  
Consultants and other designers must increasingly consider the user set of all kinds of equipment in the future, including issues of ease of use and transport.
Large wheels to accommodate various surfaces, smooth-rolling casters, and weight and weight distribution of various equipment can all be considered to make equipment function better for daily users.
The problem: No crystal ball
Predicting the future is impossible but preparing for it is imperative, and the pandemic has taught many operations a hard lesson about being flexible.
Schools are no exception — whether it's figuring out ways to feed students outside of the cafeteria, how to keep providing appealing, good-tasting food so that students will want to eat it, or how to package and provide five, 10 or even 15 meals at once for remote students to take home.
With every new USDA ruling, every CDC guideline change, every local restriction or policy change, the goal posts for student dining keep moving, and what the future may hold is anyone's guess.
The solution: Embrace flexibility
No matter what circumstances change, versatility and flexibility will never go out of style.
Future equipment and design changes should always include options for flexibility, including providing physical space to accommodate adaptations and selecting multifunctional equipment that can be used in a number of ways depending on the need of the moment.
[gpimb-btn-addto label="Add to Mood Book" ifnew="Add to Mood Book"]
[gpimb-btn-view label="View Mood Book" ifnew="View Mood Book"]